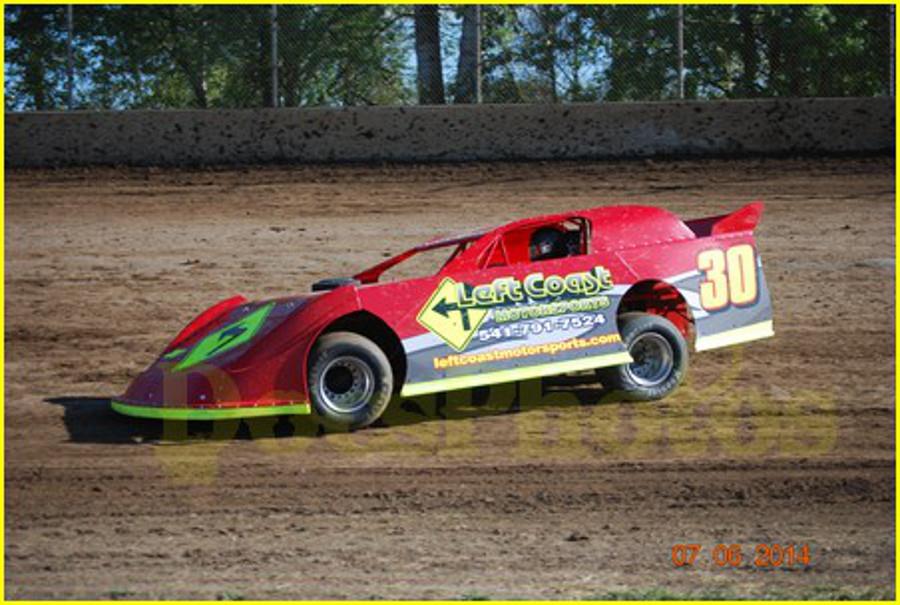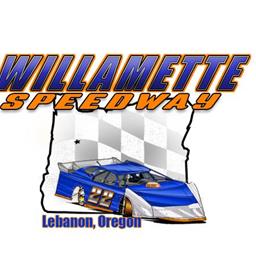 9/2/2014
Willamette Speedway
---
Shank Wins Night Two Of VAHS At Willamette; James, Smith, And Yeack Also End Up In The Winner's Circle
Shank Wins Night Two Of VAHS At Willamette; James, Smith, And Yeack Also End Up In The Winner's Circle
By Ben Deatherage
(Photo Courtesy of Doc's Photos)
Willamette Speedway would complete the second night of the Valley Agriculture Harvest Spectacular on Sunday August 31st. Classes in action were the X-Factor Race Cars Super Late Models, Crocker's Cars Super Sports, Albany & Eastern Railroad Sportsman, and Street Stocks. Extra money was up for grabs courtesy of the fine folks at Mitchell, Crossan, Hayes, and Hull Farms.
In the X-Factor Race Cars Super Late Models Randy Boyd of Lebanon was the car to beat. Boyd, in the Newport Candy Shoppe #57 entry, looked to be enroute to his first win of the campaign but unfortunately would get in a tangle under caution around lap seventeen.
Getting the lead after the incident was Jeremy Shank from Salem. The Left Coast Motorsports/South Pacific Auto Sales and Service Center/Bilstein Shock by Left Coast #30 Swartz, of Shank, would lead the remainder of the caution filled feature to collect his first win of 2014 in the Late Models.
Brian Smith from Albany, piloting the Wirth Wireless/Crocker's Cars #32 Bullitt for car owner Phil Housworth, was ultra-quick in the Crocker's Cars Super Sports. Bricen James, also from Albany, was able to catch Smith though and pass him in the last few laps to win his eighth win of the season in his James Gang Pizza/Lebanon Auto Body/Rainbow Rentals/Schram Brothers Excavating/O'Connell Machine #13 MasterSbilt.
The Albany & Eastern Railroad Sportsman main event would see Brian Smith in dominant form. Smith, chauffeuring the Hackney Racing/Wirth Wireless #2 Swartz for car owner Glen Hackney, would take care of business and score his fourth Sportsman victory of the season putting back on top of the win chart with the most wins in 2014.
Having a very fast car in the Street Stocks Kyle Yeack of Lebanon. Yeack would keep all challengers behind him to put the Haven and Roy Doran owned Doran Racing #47 Monte Carlo in victory lane for the fourth time this year.
Willamette Speedway will be in action on Tuesday September 2nd as the World Of Outlaws Sprint Car Series will be in the house. The evening's support class is the X-Factor Race Cars Super Late Models. Front Gate open at 3:00 PM and Racing starts around 6:00.
A friendly reminder that there will be no events on Saturday September 6th so the next event at Willamette, after the Outlaw show of course, is the Friday September 12th Kart race. For more information log on to www.trophymotorsports.com.
---
Submitted By: Ben Deatherage
Back to News