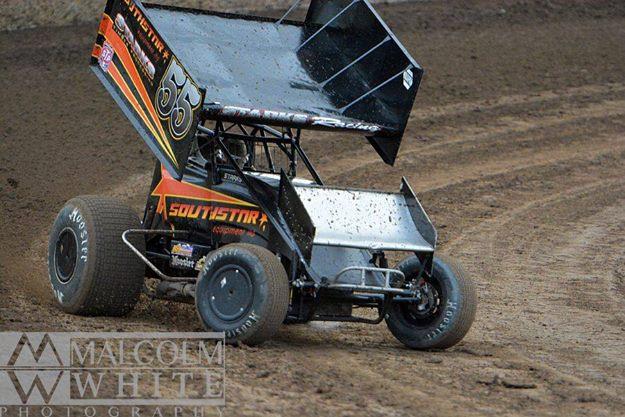 9/10/2014
Inside Line Promotions
---
Starks Searching to Change Luck With Sportsman Sprints Debut Saturday at Skagit
(Photo by Malcolm White Photography)
Inside Line Promotions – LEBANON, Ore. (Sept. 10, 2014) – Trey Starks is aiming to change his luck this Saturday at Skagit Speedway.
Starks will make his sportsman sprints debut driving for Doug Rutz at the 3/10-mile track in Alger, Wash., following a rough week in the Northwest.
"We jammed a year's worth of bad luck into a few days," Starks said. "We went through more equipment than I think I have the whole year. It was just bad luck. That was the story of the last week of racing. Hopefully we got that out of our way and I can pick up another win or two this season."
The second half of Starks' busy six-day, six-race schedule kicked off a week ago Sunday, Aug. 31, at Grays Harbor Raceway in Elma, Wash., with the Summer Thunder Sprint Series.
"We didn't qualify too well," he said. "We made a couple of changes for the heat race and we were really good."
Starks timed in ninth quickest during qualifying and he won his heat race, which lined him up in the fifth row for the main event.
"We went out for the main and were really good," he said. "We had a couple of restarts and were up to sixth. About six laps in we blew a right rear tire."
The team changed the tire and Starks rallied from last to an eighth-place result, which marked his 20th top 10 of the season.
"We were fast," he said. "The track was a little bit one lane. It would have been nice to not blow that tire and to stay up front."
Starks returned to Grays Harbor Raceway on Monday, Sept. 1, for a World of Outlaws STP Sprint Car Series event.
"In qualifying our transponder wasn't working," he said. "We got a lap at the end and the track went way away. In the heat we were in contention for a transfer spot on the last lap and the u-joint and rear end broke."
Starks was relegated to the Last Chance Showdown after qualifying 23rd quickest and being unable to finish his heat race.
"We got everything changed and we were in second by turn one (of the LCS) and the car popped out of gear," he said. "I slowed and was trying to get it back in gear. The caution flew as I got it back into gear and got it going. They disqualified us for intentionally causing the caution. Looking back I should have just stopped, but that wasn't even in my mind at the time. It's really tough to not make it into a main event at one of your home tracks because of something like that."
The busy week wrapped up on Tuesday, Sept. 2, at Willamette Speedway with the World of Outlaws.
Starks qualified seventh quickest and he finished fourth in his heat race, which lined him up on the outside of the fifth row for the main event.
"We pushed off for the main and the only thing I noticed when I was idling around was that it was difficult to keep steady," he said. "I went to get on the throttle to get lined up and it picked up a bad vibration. We brought it in to the work area to check everything. We went back out and pulled off after the start. We ended up breaking a rocker. That was a cap to all the bad luck we had."
Starks was credited with a 24th-place result after pulling into the pits on the opening lap.
QUICK RESULTS –
Aug. 31 – Grays Harbor Raceway in Elma, Wash. – Qualifying: 9; Heat race: 1 (2); Feature: 8 (9).
Sept. 1 – Grays Harbor Raceway in Elma, Wash. – Qualifying: 23; Heat race: DNF (8); B Main: DNF (6).
Sept. 2 – Willamette Speedway in Lebanon, Ore. – Qualifying: 7; Heat race: 4 (2); Feature: 24 (10).
SEASON STATS –
56 races, 1 win, 8 top fives, 20 top 10s, 32 top 15s, 36 top 20s
UP NEXT –
Saturday at Skagit Speedway in Alger, Wash.
MEDIA LINKS –
Website: http://www.TreyStarksRacing.com
Twitter: https://twitter.com/Starks55Trey
Facebook: https://www.facebook.com/TreyStarksRacing?fref=ts
APPAREL –
Starks has t-shirts and hoodies for sale at any race he attends as well as on http://www.TreyStarksRacing.com.
SPONSOR SPOTLIGHT – Starks Timber Processing
Starks Timber Processing is a logging business owned by Trey's father, John, who is a third-generation logger. It has been based out of Washington for more than 15 years.
"Starks Timber Processing is what provides me the opportunity to race," Trey said. "It has played a huge role in my life, both on the track and away from it."
Starks would also like to thank Southstar Equipment, Blue Dot Fabrications, SpeedMart, King Racing Products, Masco Petroleum, RCC Powder Coating and Emory Transmission for their continued support.
INSIDE LINE PROMOTIONS –
Inside Line Promotions specializes in affordable public relations and media management for motor sports drivers, teams, sponsors, tracks, series, events, organizations and manufacturers. ILP Founder Shawn Miller leverages professional journalism with new media technologies and social networking to improve your exposure and the return on investment for your sponsors.
To meet the media relations needs of your program and to join Team ILP, contact Shawn at 541-510-3663 or InsideLinePromotions@gmail.com. For more information on Inside Line Promotions, visit http://www.InsideLinePromotions.com.
---
Article Credit: Inside Line Promotions
Submitted By: Shawn Miller
Back to News