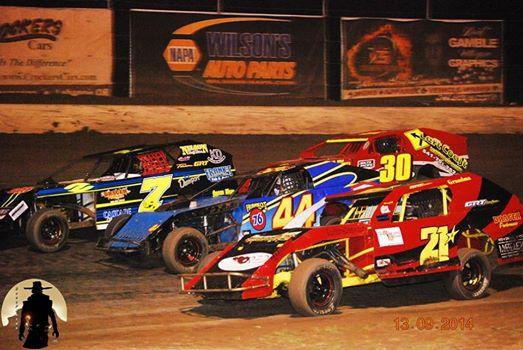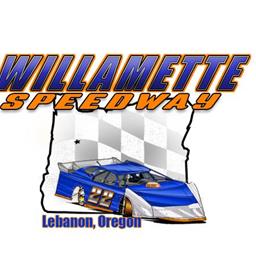 9/16/2014
Willamette Speedway
---
Willamette Speedway Set For Championship Weekend; Karts On Friday September 19th
Willamette Speedway Set For Championship Weekend; Karts On Friday September 19th
By Ben Deatherage
(Photo Courtesy of Doc's Photos)
Lebanon, Oregon- Willamette Speedway will be hosting the 2014 finale for the Karts on Friday September 19th while Saturday the 20th will be Championship Night for all six divisions. Those divisions include the X-Factor Race Cars Super Late Models, Wirth Wireless IMCA Modifieds, Crocker's Cars Super Sports, Albany & Eastern Railroad Sportsman, Street Stocks, and 4-Cylinders.
Rob Mayea, Joey Tanner, and John Duty find themselves at level pegging for most feature wins in 2014 in the X-Factor Race Cars Super Late Models all with three wins each. Justin Duty is the only other multi-feature winner with two visits to victory lane while single race winners include Collen Winebarger, Casey Vitale, Trevor Glaser, Jeremy Shank, and Steve Moore. Rob Mayea enters the final leg of the season with a healthy point lead exceeding one hundred markers.
In the Wirth Wireless IMCA Modifieds it will no doubt come down to the final laps of the feature as Collen Winebarger and Craig Cassell are tied at the top of the points table but don't count out Matt Mitchell who trails the two by a mere seventeen points as there is a slight possibility he could move to the top. Matt Mitchell and Jeremy Shank are the two drivers that have visited the winner's circle three times each while Alex Stanford and Collen Winebarger have two victories. Single race winners include Jesse Williamson, Kyle Yeack, Craig Cassell, Dustin Cady, and Monte Bischoff.
In the Crocker's Cars Super Sports it has been outright domination from the likes of Bricen James who enters the last race of the year with a two-hundred plus point advantage as well as nine trips to victory lane in just his first season in the division. Gil Pickett has three wins over Brian Thompson, Randy Barley, and Tim Archer who have one each.
In Albany & Eastern Railroad Sportsman action Brian Smith leads the class with the most wins this year with a total of four. Brian Winkler and Jeff Rash are both three-time winners while Ron Berry and Briley Pompe have done so twice. Single race winners include Steve Moore, James Slover, Sandy Sanders, and Jeff Marson. Brian Winkler is at the top of the point count and enters the final race with a healthy lead of approximately one-hundred points.
Bricen James also enters the last Street Stock event as the point leader with a one-hundred plus point advantage over Kyle Yeack. Yeack has recorded the most wins in the class, with four, while James and Justin Evans are three-time victors. Erik Jarnport and Ron Shinkle have one win apiece.
Last but not least in the 4-Cylinder division Dale Holland has been master of the class with his four victories. The only drivers to beat him are Bo Jones and Travis Koch.
General admission to the Friday Kart race will be FREE of charge. Pit Passes are $10.00 and Car and Driver fees will be $30.00. The Pit Gate will open up around 4:00 PM and Racing is scheduled to begin around 6:30.
On Saturday the Pit Gates will open at 1:00 PM, the Pit Meeting will take place at 2:30, Front Gates open at 3:30, and Racing starts at 6:00. Tickets for this event are Adults $12.00, Seniors/Military/Juniors (13-17) $10.00, Youths (Ages 12-6) $5.00, and Children under the age of 5 are FREE and a family pass will be offered for two Adults and up to four Youths for just $35.00. For more information log on to www.trophymotorsports.com and click "Track Info".
---
Submitted By: Ben Deatherage
Back to News