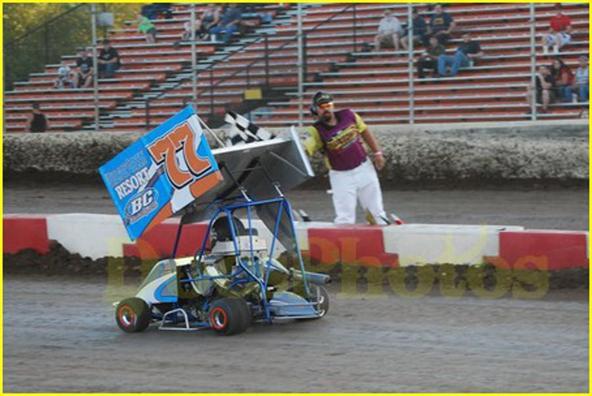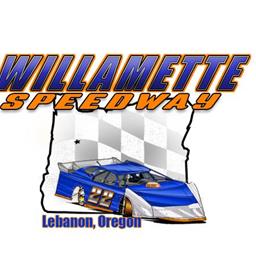 9/13/2014
Willamette Speedway
---
Great Night Of Kart Racing On Friday September 12th
Great Night Of Kart Racing On Friday September 12th
By Ben Deatherage
(Photo Courtesy of Doc's Photos)
The Karts would be on tap for the ninth occasion on Friday September 12th at Willamette Speedway. A decent Kart count was on tap as the season starts to rapidly wind to a close.
In Pee Wee action Jayden Trupp of Coos Bay would sweep the evening's event as he would win both heat and lead every lap of the main event. It marked the eighth time in 2014 that the Dave Foote Motorsports/Nexdor Tobacco & More/Trupp Family Race Team #72 QRC, of Trupp, has visited victory lane.
The Brookshire Racing #ZER0 QRC of Braydn Brookshire from Forest Grove was second followed by Coos Bay's Lydia Trupp in third driving her Dave Foote Motorsports/Nexdor Tobacco & More/Trupp Family Race Team #722 QRC.
Jerry Fonfara was ultra-dominant in his Fonfara Racing #88 Trackmagic in Rookie Speedway Kart action. The Keizer youngster would lead the whole way to sweep the night too, like Jayden Trupp, and scored his sixth win of the campaign. Finishing in second behind him would be the Bob's OK Tire Store/G&S Machine #17 of Jayden Kimball also from Keizer.
Cottage Grove's Austin Sause would secure the lead on lap three and stay out in front to win the 5HP Intermeadiate feature. It would be the eighth occasion that the Wheeless Trailer Sales/Central Coast Vacuums/Umpqua Survival/Cooper's Pest Control #7 QRC graced the winner's circle.
The Discount Race Car Parts/Terry's Drain Service #10D QRC of Kylee Day from Vancouver, Washington would finish in second, after leading the first two laps, followed by Makayla Patterson of Albany in her James Gang Pizza/King Office Equipment/Clayton's Cornwell Tools/Rebecca's Barber Shop #26 QRC in third.
Carter Patterson from Albany, and brother to Makayla, would lead every lap of the 5HP Open main event. It would count as the sixth win of the year for the James Gang Pizza/King Office Equipment/Clayton's Cornwell Tools/Rebecca's Barber Shop #47 QRC of Patterson.
In the runner-up position would be the Discount Race Car Parts/Absolute Auto Service/Big Sky Landscaping/Frisbie Motorsports #1W QRC of Skyler Winebarger from Corbett and Eugene's Seth Riggs would end up third in the Riggs Racing #32 Hubbard.
Lebanon native Kyle Roles had a spectacular performance in the 125cc division. Roles led every single circuit of the main event to win his fourth race of 2014 at Willamette for him and his Knothole Market/Big Sky Landscaping/Clayton's Cornwell Tools/Bunce Equipment #02 QRC team.
The Hanson Contract Cutting/BC Motorsports/DT Motorsports/SKS Racing #55H QRC of Conner Hanson from Creswell was second and in third would be McKenzie Lockhart of Albany in her Linn-Benton Insurance/A.A. Towing/James Gang Pizza #29 QRC. The Linn-Benton Insurance/A.A. Towing/James Gang Pizza #47 QRC of Trinity Pendley, also hailing from Albany was fourth, with fifth belonging to Bailey Crump of Culp Creek in the Dale Troutman owned DT Motorsports/Marvin Smith Auto Repair/Body Works Salon #53 QRC.
In 250cc competition Portland's Duke Johnson was the kart to beat for much of the race. Johnson, in his Oregon Outlaw Speed Shop/Luck O'Jonny/Old Black Daddy Foster Care #151 RFC, would lose the lead late. He would be overtaken by the Schram Brothers Excavating/RSR Racercraft/Xtreme Motorsports/James Gang Pizza #113 RFC of Kyle Cormican from Vancouver, Washington who would collect his third win of the season.
Duke Johnson was a respectable second while in third would be Custin Jones of Lebanon in his Burke's Metal Recycling/Knothole Market #48C QRC. The balance of the top five consist of Albany's Eric Scofield, chauffeuring his Scofield Karts & Parts/Lassen RV/Human Bean Coffee/Fastenal #37 QRC Area51, in fourth and the Scofield Karts & Parts/Dan's Motorsports/Crocker's Cars/Sure Flow Concrete Pumping Services #99 QRC of Jared Lund out of Salem.
Last but not least Tyler Thompson from Harrisburg would simply put on a clinic in the Open Kage main event. Thompson would have no issues at all as he would cruise to the victory in his Bunce Equipment/Village Green Resort/BC Motorsports/Rocket Designs #77 RFC. It would be Thompson's first point win but second overall in the division as he won the non-point Willamette Kart Invitational in early August.
The Henderson's Hot Rod Shop/West Coast Floats #007 QRC of Philomath teenager Caleb Henderson was second while Albany ace Bricen James ended the night third in his James Gang Pizza/Lebanon Auto Body/O'Connell Machine/Schram Brothers Excavating/Rainbow Rentals #13 SKE. Sherwood pilot Casey Starr was fourth in her Oregon Outlaw Speed Shop/R.S. Race Products/P.G.H. Excavating/Big Sky Landscaping #13* RFC and fifth belonged to the Unlimited Business Service/Cascade Outdoor Power Equipment #15 Hubbard of Lebanon's Cory Yeack.
The 2014 Kart season will come to an end on Friday September 19th for Championship Night. General admission to the Friday Kart race will be FREE of charge. Pit Passes are $10.00 and Car and Driver fees will be $30.00. The Pit Gate will open up around 4:00 PM and Racing is scheduled to begin around 6:30.
Race Summary:
Kart Race #9
Friday September 12th, 2014
Willamette Speedway
Lebanon, Oregon
Pee Wee
A Feature: 1. 72-Jayden Trupp; 2. ZER0-Braydn Brookshire; 3. 722-Lydia Trupp
5HP Open
A Feature: 1. 47-Carter Patterson; 2. 1W-Skyler Winebarger; 3. 32-Seth Riggs
5HP Intermediate
A Feature: 1. 7-Austin Sause; 2. 10D-Kylee Day; 3. 26-Makayla Patterson
Rookie Speedway Karts
A Feature: 1. 88-Jerry Fonfara; 2. 17-Jayden Kimball
125cc
A Feature: 1. 02-Kyle Roles; 2. 55H-Conner Hanson; 3. 29-McKenzie Lockhart; 4. 47-Trinity Pendley; 5. 53-Bailey Crump; 6. 6A-Dustin Asher
250cc
A Feature: 1. 113-Kyle Cormican; 2. 151-Duke Johnson; 3. 48C-Custin Jones; 4. 37-Eric Scofield; 5. 99-Jared Lund; 6. T3-Talyn Roberts
Open Kage
A Feature: 1. 77-Tyler Thompson; 2. 007-Caleb Henderson; 3. 13-Bricen James; 4. 13*-Casey Starr; 5. 15-Cory Yeack; 6. 77M-Makenzie Thompson; 7. 7-Austin Jones; 8. 55-Kyle Mehner; 9. 49-Briley Pompe; DNS 2-Justin Jones; DNS 199-Christian Osborne
---
Submitted By: Ben Deatherage
Back to News