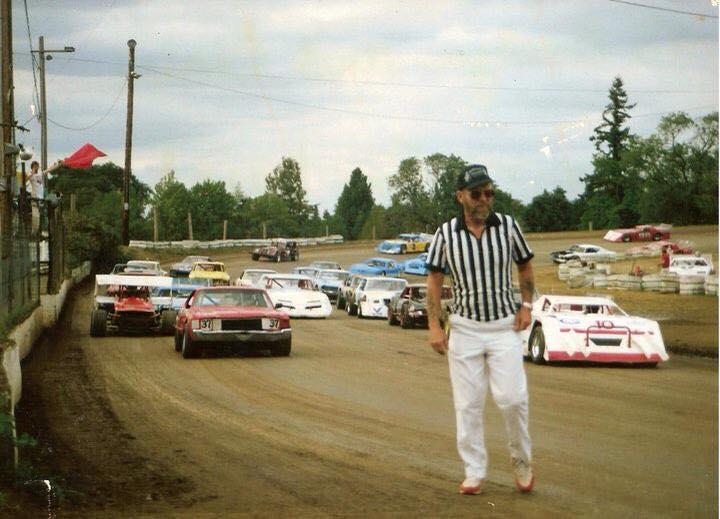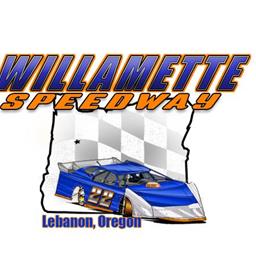 7/1/2016
Willamette Speedway
---
Clair Cup: A History
Clair Cup: A History
By Ben Deatherage
Lebanon, Oregon- The Willamette Speedway will have quite a busy weekend coming up with the annual Clair Cup on Saturday July 2nd and Sunday the 3rd. This will be the first time since 2011 that the event has been ran in the month of July.
Ran in honor of longtime Willamette Speedway owner/operator Clair Arnold it has become one of the crown jewel Dirt Late Model events of the Western United States producing very large car counts and great racing. The event won the "First Class Promotion Award" at the annual Western Auto Racing Promoters Association workshop in November of 2012.
Although the first Clair Cup was contested in July of 2010 as a tribute race in honor of Clair Arnold was held on Saturday April 25th shortly after his passing. Taking the lead on lap ten Justin Dittman would show the way the rest of the distance at the historic 1/3-mile clay oval. Putting a clinic on the high side of the race track, Dittman would win the race by half a lap. It would mark the first win at Willamette for both Justin and his car owners at the time Tom and Sherry Points.
"That night I missed the trophy dash and I remember Rob Mayea doing a Polish victory lap in honor of Clair," commented Dittman, "that meant a lot to us drivers. I also remember sitting in staging for the main event and thought how cool it would be to win my first race on that night. The week before Russ Sell and I had a great battle for twenty laps and Russ won. I remember Clair coming up to me and saying how he wished I would have won. I told him I'd do it next week. And I did."
In 2010 some big money was put on the line for the winner of the feature and was billed as the Clair H. Arnold Memorial. The race would have a wild finish as on the last lap of the eighty-one lap main event a crash would take out some top contenders in the backstretch. Three-time track champion and veteran Russ Sell would win the event when it was all said and done.
"That was a cool deal," said Sell afterward, "That was probably the biggest win of my career. I remember that race was pretty exciting in the end. Clair was a big part of what made Willamette and I feel honored to have won a race in his memory."
The 2011 edition would see another wild installment with several lead changes taking place. Lompoc, California's Mike Johnson, driving for Rob Mayea, would recover from an early race spin to get the lead around lap fifty-nine. Jeremy Shank would make the pass on lap sixty-five only to lose the lead to Johnson three laps later and Johnson going on to win the race.
2012 saw the race format change up a little bit as well as the name of the event which it is now known as, the Clair Cup. The racing had two separate shows with a bonus being offered up to a driver up to the challenge of winning both nights. The first night witnessed two heavy hitters duel one another for the win. Greg Walters and Rob Mayea put on a fantastic performance in front of a packed house with Mayea earning the triumph.
The next night 2010 winner Russ Sell would take the lead early but had some fast cars hot on his heels. A long green flag run put lapped traffic into the picture and gave an opportunity for both Jeremy Shank and Terry Ferrando to challenge for the lead. Sell would keep the challengers behind and would become the first, and thus far only, driver to win the final night more than once.
Unfortunately, the 2013 edition was completely rained out.
But both nights would be completed in 2014. Leading the entire distance of the first night was Scio veteran Steve Moore. There were several drivers trying to track down Moore for the lead but none of them could quite make enough of a challenge to make a pass. Moore was able to hold all challengers off and visit victory lane for the first time in Late Model competition at Willamette since September of 2011 at the Mick Gray Memorial.
Covering the field on night two was Portland's Joey Tanner. After destroying a car the week before, Tanner, managed to take full advantage of his front row starting position to finally conquer the Clair Cup after coming so close in 2011.
2015 would see the first time ever a driver swept the Clair Cup weekend. Brian Cronk would take the lead on lap eleven in the first night and held on to win the feature. He would back it up the following night in exciting fashion after getting to the front in the closing stages of the main.
"To win the Clair Cup last year was definitely my most prestigious victories," commented Cronk, "Clair Arnold is the man that created the Willamette Speedway that we all enjoy so much so it was an amazing feeling to win "his" race.
Clair Cup is Saturday July 2nd and Sunday the 3rd. Tickets for each event are $14.00 for Adults, Juniors/Seniors/Military $10.00, Youths $5.00, and a Family Pass (2 Adults and up to 4 Youths) $35.00. The times for both nights are Front Gates open at 3:30 PM and Racing kicks off at 6:30. And drivers we want to let you know that the pit meeting has been moved up to 3:30 PM for each day. For more information, log on to www.trophymotorsports.com.
Past Clair Cup Results:
April 25th, 2009 (Ran In Tribute Of Clair)
A-Feature: 1. Justin Dittman, 2. Rick Wyatt, 3. Rob Mayea, 4. Jeremy Shank, 5. Russ Sell, 6. Tory Swayngim, 7. Randy Boyd, 8. Darren Coffell, 9. Brian Cronk, 10. Brett McCutcheon, 11. Brett James, 12. Jason Wines, 13. Rob Campos, 14. Mike Miller, 15. Jimmy Schram, 16. Bruce Hipple
July 24th, 2010
A-Feature: 1. Russ Sell, 2. Brian Cronk, 3. John Duty, 4. Billy Workman, 5. Todd Shandy, 6. Jon Kauffman, 7. Tory Swayngim, 8. Cody Sell, 9. Rob Mayea, 10. Rob Campos, 11. Gary Smith, 12. Jeremy Shank, 13. Randy Boyd, 14. Paul Culp, 15. Rick Wyatt, 16. Trevor Glaser, 17. Greg Walters, 18. Darren Coffell, 19. John Campos, 20. Justin Dittman.
July 3rd, 2011
A-Feature: 1. Mike Johnson, 2. Rob Mayea, 3. Billy Workman Jr., 4. Jeremy Shank, 5. Casey Vitale, 6. Clay Daly, 7. John Duty, 8. Jimmy Whisler, 9. John Campos, 10. Russ Sell, 11. Mike George, 12. Tim Goodwin, 13. Tony Brakeall, 14. Rick Wyatt, 15. Steve Moore, 16. Mike Miller, 17. Darren Coffell, 18. Joey Tanner, 19. Rob Campos, 20. Todd Shandy
May 26th, 2012
A-Feature: 1. Rob Mayea, 2. Greg Walters, 3. Brady Sell, 4. Russ Sell, 5. Tim Goodwin, 6. John Duty, 7. Jason Wines, 8. Jeremy Shank, 9. Justin Duty, 10. Jimmy Whisler, 11. Casey Vitale, 12. Jimmy Schram, 13. Rob Ireland, 14. Steve Moore, 15. John Campos, 16. Billy Workman Jr., 17. Terry Ferrando, 18. Collen Winebarger, 19. Trevor Glaser, 20. Rick Wyatt
May 27th, 2012
A-Feature: 1. Russ Sell, 2. Jeremy Shank, 3. Greg Walters, 4. Trevor Glaser, 5. John Duty, 6. Casey Vitale, 7. Jason Wines, 8. Jon Kaufman, 9. Tim Goodwin, 10. Tony Brakeall, 11. Brian Cronk, 12. John Campos, 13. Rob Mayea, 14. Billy Workman Jr., 15. Trent Elliott, 16. Joey Tanner, 17. Terry Ferrando, 18. Collen Winebarger, 19. Mike Miller, 20. Rick Wyatt
May 24th, 2014
A Feature: 1. Steve Moore; 2. Rob Mayea; 3. Collen Winebarger; 4. Darren Coffell; 5. Russ Sell; 6. John Duty; 7. Brian Cronk; 8. Justin Duty; 9. Rick Wyatt; 10. Todd Shandy; 11. Thomas Hunziker; 12. Dan Dieble; 13. Tony Brakeall; 14. Joey Tanner; 15. Preston Luckman; 16. John Campos; 17. Todd Sieg; 18. Brian Smith; 19. Rob Campos; 20. Randy Boyd
May 25th, 2014
A Feature: 1. Joey Tanner; 2. John Campos; 3. Collen Winebarger; 4. Russ Sell; 5. Rob Mayea; 6. Casey Vitale; 7. John Duty; 8. Brian Cronk; 9. Darren Coffell; 10. Rick Wyatt; 11. Brian Smith; 12. Thomas Hunziker; 13. Jimmy Schram; 14. Rob Campos; 15. Mike Graham; 16. Todd Shandy; 17. Josh Sim; 18. Justin Duty; 19. Randy Boyd; 20. Cory Hazen
May 23rd, 2015
A Feature: 1. Brian Cronk; 2. Justin Duty; 3. Darren Coffell; 4. Preston Luckman; 5. Randy Boyd; 6. Collen Winebarger; 7. Rob Mayea; 8. Mike George; 9. Tony Brakeall; 10. Doug Davenport; 11. Steve Moore; 12. John Duty; 13. Eric Luckman; 14. Thomas Hunziker; 15. Cory Brooks; 16. Josh Sim; 17. Brian Thompson; 18. Trevor Glaser; 19. Len Waterman; 20. Rob Campos
May 24th, 2015
A Feature: 1. Brian Cronk; 2. John Duty; 3. Justin Duty; 4. Rob Mayea; 5. Darren Coffell; 6. Mike George; 7. Len Waterman; 8. Tyler Brooks; 9. Doug Davenport; 10. Trevor Glaser; 11. Thomas Hunziker; 12. Randy Boyd; 13. Steve Moore
---
Submitted By: Ben Deatherage
Back to News