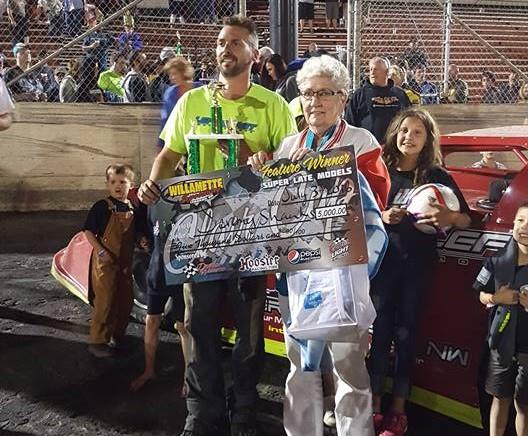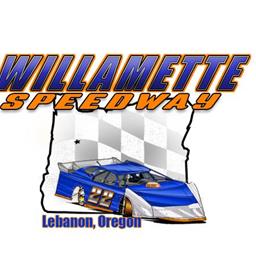 7/4/2016
Willamette Speedway
---
Jeremy Shank Wins Clair Cup Finale; Zerbin, S. Cronk, And Schott Get Willamette Wins
Jeremy Shank Wins Clair Cup Finale; Zerbin, S. Cronk, And Schott Get Willamette Wins
By Ben Deatherage
(Photo Courtesy of Tina Russell)
Lebanon, Oregon- Willamette Speedway would host the second and final night of the Clair Cup on Sunday July 3rd. Super Late Models were the headliner for the evening while the IMCA Modifieds, Super Sports, and Street Stocks were also on the card. All four drivers that picked up victories were first time winners in 2016.
Despite not running a full-time schedule Salem chauffeur Jeremy Shank would rise to the occasion in the Super Late Models. When the checkered flag would be presented Shank was the first one to the line. It would be his first win of the season and first time ever that he's emerged triumphant during the Clair Cup.
Lane Zerbin would make the journey from Victoria, British Columbia, Canada to earn the triumph in the IMCA Modifieds despite limited experience on dirt. Sean Cronk from Portland got the job done in the Super Sports to win the feature. Donald Schott, also out of Portland, would be victorious in the Street Stock ranks.
Willamette Speedway will be in action on Tuesday July 5th for the return of the 360 Sprint Cars for Speedweek Northwest. The famed 1/3-mile clay oval will not be in action on July 9th but will resume regular action on Saturday the 16th for the Mid-Season Championship. For more information, log on to www.trophymotorsports.com.
---
Submitted By: Ben Deatherage
Back to News