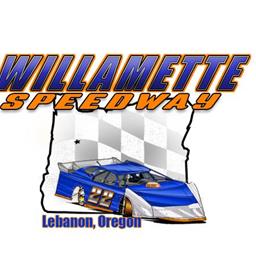 7/28/2016
Willamette Speedway
---
Big Weekend Ahead At Willamette Speedway; Karts On Friday, July 29th
Big Weekend Ahead At Willamette Speedway; Karts On Friday, July 29th
By Ben Deatherage
Lebanon, Oregon- Willamette Speedway continues racing action this weekend with two events on the card. Friday, July 29th will feature Karts and opens the entire weekend up. Then on Saturday, the 30th, it will be the annual Fan Appreciation Night. All six classes will be racing on Saturday including the Super Late Models, IMCA Modifieds, Super Sports, Sportsman, Street Stocks, and Hornets. This is an extremely popular event and is a night where all the cars competing park on the front stretch to sign autographs and pose for pictures with the fans, so don't forget your autograph books at home.
General Admission to the Friday Kart race will be FREE of charge. Pit Passes are $10.00 and Car and Driver fees will be $30.00. The Pit Gate will open up around 4:00 PM and Racing is scheduled to begin around 6:30.
In the Late Models, Rob Mayea is still atop of the win column with three visits to victory lane. Joey Tanner is the only other multi-feature winner with two wins while Brian Cronk, Collen Winebarger, Justin Duty, and Jeremy Shank all have one each. Collen Winebarger and John Campos are even with two IMCA Modified victories this year. Kyle Yeack and Matthew Drager are the two single-race winners.
Brian Thompson's win last Saturday put him at the top of the Super Sports win column with four. Randy Barley still has an impressive three while Sean Cronk and Dan Deibele have one win. Tom Yeack has been unstoppable in the Sportsman ranks. Yeack has seven wins while Jeff Rash is the only other individual to be victorious and has done so once.
In the Street Stocks Justin Evans and Chris Sine have two wins to their credit. A hefty list of single-race winners includes Joey Tanner, Mikey Brakeall, Kevin Roberts, Andrew Langan, Kyle Yeack, Shannon Horn, Donald Schott, and most recently David Cronk. In the Hornets Tracey Muse and Rowe Lovvorn is level at four each while Tylor Owen was the big winner last weekend.
Tickets are $14.00 for Adults, Juniors/Seniors/Military $10.00, Youths $5.00, and a Family Pass (2 Adults and up to 4 Youths) $35.00. Front Gates open at 3:30 PM and Racing kicks off at 6:00. For more information, log on to www.trophymotorsports.com.
---
Submitted By: Ben Deatherage
Back to News