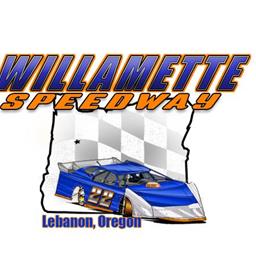 8/16/2016
Willamette Speedway
---
Winkler And Deible Get Super Sport Twin 50 Wins; T. Yeack, K. Roberts, And Muse Get Willamette Wins
Winkler And Deible Get Super Sport Twin 50 Wins; T. Yeack, K. Roberts, And Muse Get Willamette Wins
By Ben Deatherage
Lebanon, Oregon- Despite some intense heat the warm weather would be complimented at Willamette Speedway with some terrific racing on Saturday, August 13th. The main card was the Super Sport Twin 50's presented by Crockers Cars, Knothole Market, and Schram Brothers Excavating. Also in action were the Sportsman, Street Stock, and Hornet divisions.
Brian Winkler would get the job done in the first of two fifty lap Super Sport main events. It would be the Newberg native's second trip to victory lane. However, in the second feature, it was Lebanon native Dan Deibele rising to the occasion. It was also Deibele's second Super Sport win of 2016.
In the Sportsman ranks, Tom Yeack continued his domination. Yeack, out of Crawfordsville, would have the field covered and finished in first place. It was the ninth occasion that Tom has been triumphant in the current campaign.
Kevin Roberts was victorious in the Street Stock ranks. It had been some time since Roberts, of Gresham, had occupied the winner's circle but it was worth the wait. He now has two Street Stock win at Willamette this year.
Last but not least were the Hornets. Tracey Muse yet again would break the deadlock in the win column when the checkered flag dropped. Muse, of Albany, would win for the sixth time this year in the division.
Tickets are $14.00 for Adults, Juniors/Seniors/Military $10.00, Youths $5.00, and a Family Pass (2 Adults and up to 4 Youths) $35.00. Front Gates open at 3:30 PM and Racing kicks off at 6:30. For more information, log on to www.trophymotorsports.com.
Race Summary:
Super Sport Twin 50's presented by Crockers Cars, Knothole Market, and Schram Brothers Excavating
Saturday, August 13th, 2016
Willamette Speedway
Lebannon, Oregon
Super Sports
A Feature 1: 1. 88-Brian Winkler; 2. 44-Brian Thompson; 3. 55-Steve Moore; 4. 74-Dan Deibele; 5. 13B-Randy Barley; 6. 77-James Slover; 7. 22-Mike Betker; 8. 61-Jerry Casey; 9. 88-Steve Fuller; 10. 30-Robert Mercer; 11. 99-BJ Donofrio; 12. 10-Brian Brown; 13. 84-Clay Debban; 14. 19-Drew Deible; 15. 0-Clyde Rood; 16. 16-Chris Mott
A Feature 2: 1. 74-Dan Deibele; 2. 88-Brian Winkler; 3. 44-Brian Thompson; 4. 55-Steve Moore; 5. 13B-Randy Barley; 6. 22-Mike Betker; 7. 88-Steve Fuller; 8. 61-Jerry Casey; 9. 30-Robert Mercer; 10. 77-James Slover; 11. 19-Drew Deible; 12. 99-BJ Donofrio; 13. 0-Clyde Rood
Sportsman
A Feature: 1. 49-Tom Yeack; 2. 1-Jeff Rash; 3. 97-Ryan Emry; 4. 55-Casey Rhoades; 5. 333-Eric Lindquist; 6. 24-Chris Sine; 7. 14-Tom Whiting; 8. 25-Chad Slover; 9. 89-Dakota Godard; 10. 52-Mark Vonsild; 11. 2-Glen Hackney; 12. 13-Jeff Marson; 13. 0-Clyde Rood; 14. 75-Darryl Blanchard
Street Stocks
A Feature: 1. 88-Kevin Roberts; 2. 31-Loren Kruesi; 3. 27-Bill Allison; 4. W7-Kevin Williamson; 5. 13-Mikey Brakeall; 6. 24-Chris Sine; 7. 55-D.W. Northey; 8. 89-Dakota Godard; 9. T3-Talyn Roberts; 10. 13-Jesse Yankeee; 11. 3-Allen Stroud; 12. F2-Monte Howe; 13. 36-Jody TannerKyle Yeack drove the #31 for Loren Kruesi Jordan McDonald drove the #W7 for Kevin Williamson
Hornets
A Feature: 1. 16-Tracy Muse; 2. 21T-Devon Traslavina; 3. 33-Barry Lampert
---
Submitted By: Ben Deatherage
Back to News