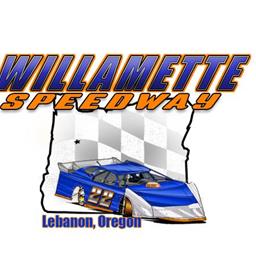 8/19/2016
Willamette Speedway
---
Willamette Speedway Has $1,000.00 To Win Modified Special Next Courtesy of Schram Brothers Excavating On Saturday August 20th
Willamette Speedway Has $1,000.00 To Win Modified Special Next Courtesy of Schram Brothers Excavating On Saturday August 20th
By Ben Deatherage
Lebanon, Oregon- Willamette Speedway will be one of the few tracks in the Willamette Valley racing IMCA Modifieds this weekend. They will capitalize on the chance for a very good car count and with a $1,000.00 to win feature, presented by Schram Brothers Excavating, it is sure to attract some very fast race cars. In addition to IMCA Modifieds, there will also be Super Late Models, Super Sports, and Sportsman in attendance.
The Super Late Models have been absent for a number of weeks and are raring to get back to it at the 1/3-mile clay oval. Rob Mayea has the most wins in the class, with three, while Joey Tanner and Justin Duty each have two. Collen Winebarger, Brian Cronk, and Jeremy Shank are single race victors so far this year. The race will also count for points in the 2016 I-5 Super Late Model Series.
In the IMCA Modifieds, three drivers are tied for the most victories. Kyle Yeack, Collen Winebarger, and John Campos all have managed to put together two wins to their credit so far during the current campaign. Matthew Drager, Dustin Cady, and Lane Zerbin have one win each.
The Super Sport win column finds Brian Thompson at the top of the list with his five visits to victory lane. Randy Barley is behind him, with three, while Brian Winkler and Dan Deibele have two apiece. Sean Cronk is the only driver to have won once.
Tom Yeack continues to reign dominant in the Sportsman ranks. Yeack has nine victories in ten starts and still has impressively only been defeated once. Jeff Rash is the only driver to have bested Tom Yeack so far.
Tickets are $14.00 for Adults, Juniors/Seniors/Military $10.00, Youths $5.00, and a Family Pass (2 Adults and up to 4 Youths) $35.00. Front Gates open at 3:30 PM and Racing kicks off at 6:00. For more information, log on to www.trophymotorsports.com.
---
Submitted By: Ben Deatherage
Back to News