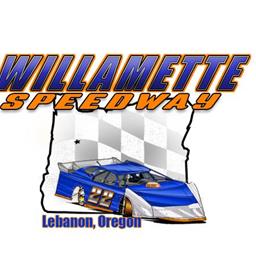 9/2/2016
Willamette Speedway
---
Fall Frenzy Classic Weekend At Willamette On Saturday And Sunday; World Of Outlaws Back On Wednesday September 7th
Fall Frenzy Classic Weekend At Willamette On Saturday And Sunday; World Of Outlaws Back On Wednesday September 7th
By Ben Deatherage
Lebanon, Oregon- Willamette Speedway is in for a big weekend of racing this Saturday and Sunday. The historic 1/3-mile clay oval will host the Fall Frenzy Classic Weekend with two consecutive nights of action. Saturday, September 3rd, will have the Street Stocks headline the card for the $3,000.00 to win Iron Giant event.
In addition to Street Stocks on Saturday, there will also be Super Late Models, IMCA Modifieds, Super Sports, and Sportsman. All five classes will make their return on Sunday evening.
The Super Late Models will be back after a number of weeks away. Rob Mayea leads the win list with three trips to victory lane while Joey Tanner and Justin Duty has done so twice. Collen Winebarger, Brian Cronk, and Jeremy Shank all have one win to their credit.
In the IMCA Modifieds, Kyle Yeack, Collen Winebarger, and John Campos are all tied for the most victories in the campaign, with two. Single-race victors include Matthew Drager, Dustin Cady, Lane Zerbin, and most recently Jesse Williamson.
Brian Thompson has the most wins in the Super Sports, with five, while Randy Barley has made it to victory lane three times. Brian Winkler is a two-time winner in 2016 with Dan Deibele and Sean Cronk the only two drivers to have won once.
Tom Yeack has been the man in the Sportsman division. Yeack has put together an incredible nine-win season so far. Two drivers have one win and those are Jeff Rash and last week's winner Todd Miller.
Last but not least are the Street Stocks. As mentioned above they will compete for an incredible purse on Saturday with $3000.00 going to the winner. Justin Evans has made three trips to the winner's circle while Chris Sine, David Cronk, Kyle Yeack, and Kevin Roberts have two wins. Mikey Brakeall, Jody Tanner, Andrew Langan, Donald Schott, and Shannon Horn have emerged triumphant once.
Tickets for both nights are $14.00 for Adults, Juniors/Seniors/Military $10.00, Youths $5.00, and a Family Pass (2 Adults and up to 4 Youths) $35.00. Each night will be regular starting times. Front Gates open at 3:30 PM and Racing kicks off at 6:00. For more information, log on to www.trophymotorsports.com.
Also, don't forget that on Wednesday, September 7th will have the best Sprint Car pilots on the planet, the Craftsman World of Outlaws Sprint Car Series, invade Willamette. It will be the only Craftsman World of Outlaws Sprint Car Series race in the state of Oregon in 2016. Ticket information can be found for this event at http://www.trophymotorsports.com/news/?i=39802 .
---
Submitted By: Ben Deatherage
Back to News