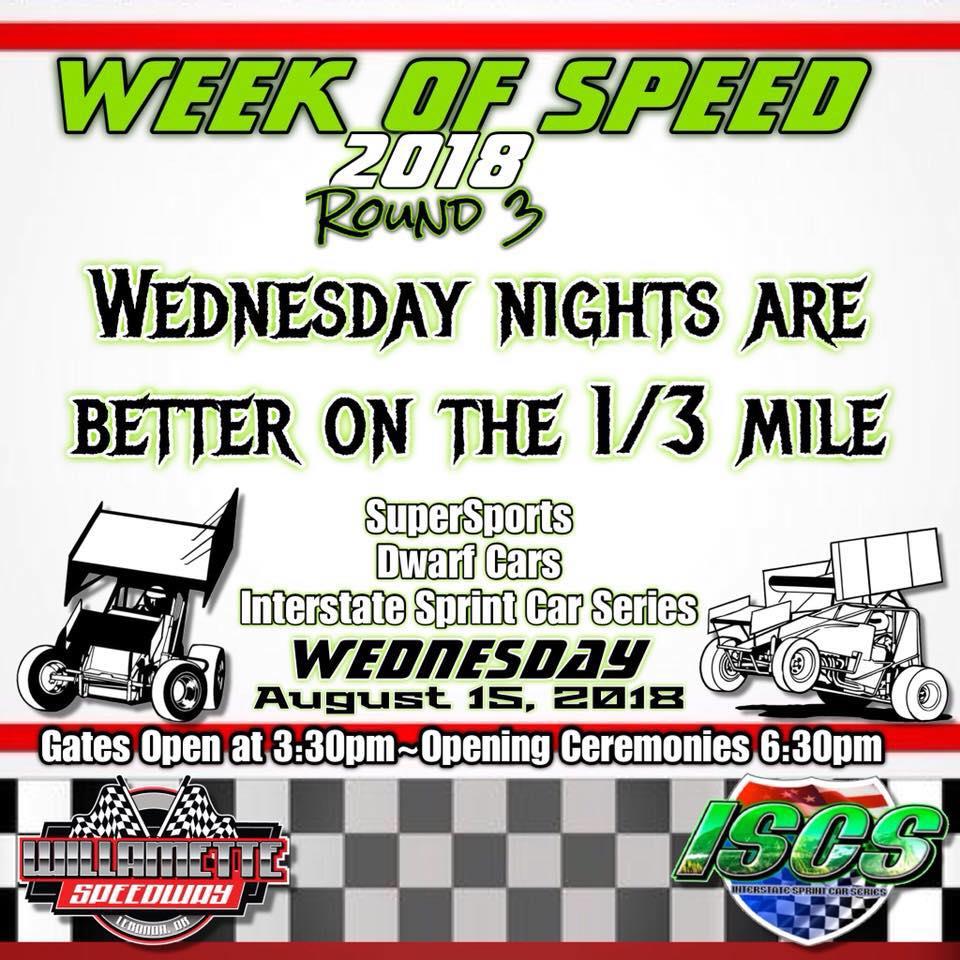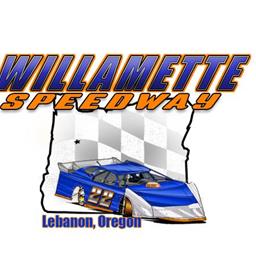 8/14/2018
Willamette Speedway
---
Willamette Speedway Set For Three Races In Four Nights
Willamette Speedway Set For Three Races In Four Nights
By Ben Deatherage
(Photo Courtesy of Jeremy Means)
Lebanon, Oregon- Willamette Speedway will be hitting it hard this week with an abundance of races in the span of a few short days. Things get started for the historic 1/3-mile clay oval on Wednesday, August 15th with the return of the Interstate Sprint Car Series and Dwarf Cars. Then Friday and Saturday will be the Big Sky Landscaping Modified Nationals/Great American Hornet Challenge presented by AAMCO Transmissions and Total Car Care of Corvallis, Newport, and Lebanon.
Tickets for Wednesday and Saturday are $14.00 for Adults, Junior/Military/Senior $10.00, Youth (6-12) $5.00, 5 and Under FREE, and a Family Pass (2 Adults and up to 4 Youths) $35.00 while Friday the Fast Friday Special will be offered. That means that race fans get into the races for just $5.00 or two fans for $7.00. For Friday Front Gates open at 4:00 PM, Pit Gate 4:30 with Racing around 7:00. Tickets can be purchased online at www.pnwdirtracing.com . For more information log on to www.trophymotorsports.com.
The Interstate Sprint Car Series have visited just once this season with Jake Helsel picking up the win. The same can be said for the Dwarf Cars as Jimmy Brinster. Both groups are in the middle of their respected speedweeks and are expected to have some pretty impressive car counts.
The Super Sports will be racing both Wednesday and Saturday night as support classes. B.J. Donofrio leads the win list with four visits to victory lane over Randy Barley and Doug Elkins who both have won three times. McLain Beaudoin, Chris Mott, and Joey Tanner have one triumph to their credit each. The Street Stocks will run Saturday only and Justin Evans tops the winner's chart in the Street Stocks with four wins. Dakota Godard has managed to put together three victories while Kevin Roberts and Kyle Yeack each have two wins to their name. Single race victors include Collen Winebarger, Joey Cannon, and McKenzie Lockhart. In the IMCA Sport Mods Jorddon Braaten has dominated the win list with his six victories. Bruce Ray has two wins to his credit while one-time victors include Mike Medel and Justin McCreadie
T.J. Wegner is the defending Great American Hornet Challenge, presented by AAMCO Transmissions and Total Car Care of Corvallis, Newport, and Lebanon, while Tylor Owens won the first incarnation in 2016. In local competition K.C. Scott and Eddie Farness are tied for most victories, with three each. Tracy Muse has won twice while one-time winners include Matt Diller, James Donaldson, Travis Koch, and Josh Corley. Full payout regarding the Hornets can be found below this release.
Grey Ferrando won last year's Modified Nationals at Willamette and has won two straight features at the facility. In the IMCA Modified division Collen Winebarger is atop the win list with the most trips to victory lane, with five. Dustin Cady and Bricen James are level with four triumphs each while Grey Ferrando has won three times and John Campos scoring a single win. Saturday will be $2000.00 to win and $200.00 to start the feature. We will be doing the same format as Mod Speedweek with double heat races. We will NOT require IMCA License for this special event or track registration.
Big Sky Landscaping Mod Nationals Payout Structure for Saturday, August 18th:
A-Main
1st $2000
2nd $800
3rd $700
4th $550
5th $500
6th $350
7th $300
8th $250
9th-20th $200
B-Main Payout
1st Transfer
2nd Transfer
3rd $80
4th $75
5th $70
6th $65
7th $60
8th-Back $50
Great American Hornet Challenge Payout Structure
Friday
1.$100 (locked into Saturday's A main)
2.$75 (locked into Saturday's A main)
3.$50 (locked into Saturday's A main)
4.$40 (locked into Saturday's A main)
5.$30
6.$20
7-Back.$10
Saturday
1.$1000
2.$500
3.$250
4.$125
5.$100
6.$85
7.$85
8.$85
9.$85
10.$85
11.$80
12.$80
13.$80
14.$80
15.$80
16.$75
17.$75
18.$75
19.$75
20.$75
$250 BONUS TO SWEEP BOTH FEATURES
All B mains will follow this payout
1st non transfer.$40
2nd non transfer.$30
3rd non transfer.$20
4th non transfer out back.$10
2018 Willamette Speedway Supporters:
Buzz Mitchell Farms
Crockers Cars
Les Schwab Tire Centers
Xtreme Motorsports
Pepsi Co.
Scofield's Karts & Parts
Boulder Falls Inn
Big Sky Landscaping
AAMCO Transmissions and Total Car Care of Corvallis, Newport, and Lebanon
Lassen RV & Chevy
KGAL SmartTalk 1580
James Gang Pizza
Schram Brothers Excavating
Hoosier Racing Tires
DriverWebsites.com
High Octane Diecast
FinishLine Graphics
Northwest Trucking Academy
CoEnergy Propane
Napa Auto Parts
Shriners Hospitals For Children
Knot Hole Market
Left Coast Motorsports
Bar S Motorsports
Coors Light Racing
Doc's Photos
Albany & Eastern Railroad Company
---
Submitted By: Ben Deatherage
Back to News