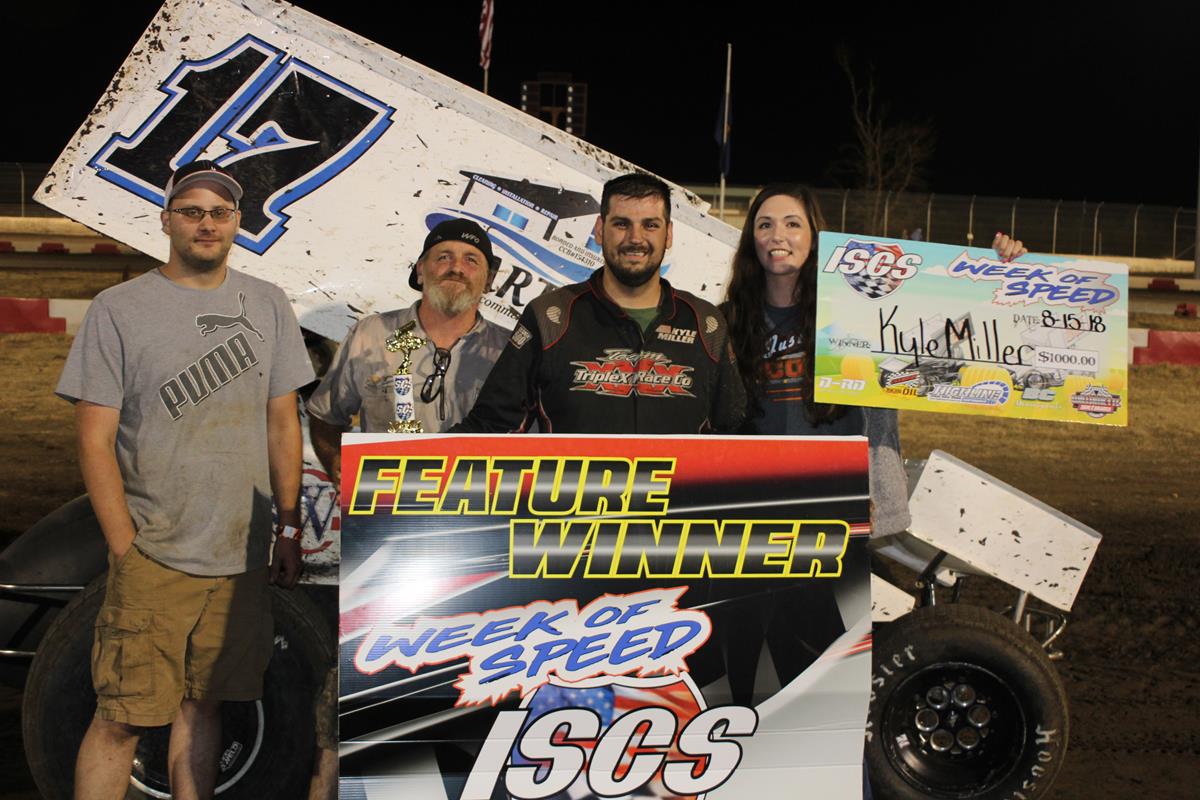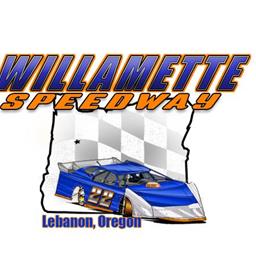 8/16/2018
Willamette Speedway
---
Kyle Miller Wins Night Three Of ISCS Week Of Speed
Kyle Miller Wins Night Three Of ISCS Week Of Speed
By Ben Deatherage
(Photo Courtesy of Stephanie Deatherage)
Lebanon, Oregon- The Interstate Sprint Car Series would roll into Willamette Speedway on Wednesday, August 15th. The historic 1/3-mile clay oval had twenty-nine drivers in the pit area representing the states of Oregon and Washington.
Shane Forte had a firm grasp of the top spot for the majority of the feature. The Junction City veteran withstood several challenges and had the luck of cautions coming out just as lapped traffic was becoming a factor. Forte would be pressured hard in the final laps by Salem's Kyle Miller and unfortunately the two would collide on the backstretch of the white flag lap which resulted in Forte flipping violently down the back stretch.
Forte would be okay, and Miller inherited the race lead. Kyle Miller stayed in front the rest of the way to win his first career ISCS race, running for car owners Hedge and Kelly Miller, and becoming the third different winner in as many nights during the Week Of Speed. Harrisburg teenager Tyler Thompson was second over Kinzer Cox, from Cottage Grove, in third. Grabbing fourth was Jake Helsel, of Monroe Washington, and Jacksonville's Tanner Holmes placed fifth.
Qualifying was split up into four groups with Roseburg's Jake Waddell in the other Hedge and Kelly Carter owned entry, Raquel Ivie of Eugene, Tyler Thompson, and Kyle Miller setting fast times. Jake Waddell would set a new track record at 12.867 breaking Monte Smith's 13.291 set in August of 2006. Picking up heat race wins were Ashleigh Johnson of Ferndale, Washington, Kinzer Cox, Jake Helsel, and Lincoln City's Allison Journey. Medford native Camden Robustelli won the consolation feature and Blaine Cory, from White City, was the Travis Rutz Hard Charger Award winner.
The Interstate Sprint Car Series Week Of Speed continues on Thursday, August 16th at Sunset Speedway Park in Banks. It is the one and only time that the series visits the "Banks Bullring" in 2018. The ISCS series would like to thank their series sponsors/marketing partners BC Motorsports, Highline Performance, NWSprintCarHistory.com, Champion Racing Oil, and Hoosier Racing Tires. For the latest news and updates regarding the Interstate Sprint Car Series be sure and visit their Facebook page.
Race Results:
ISCS Week Of Speed Race #3
Interstate Sprint Car Series Race #8
Wednesday, August 15th, 2018
Willamette Speedway
Lebanon, Oregon
Group One Qualifying: 1. 71-Jake Waddell; 2. 18T-Tanner Holmes; 3. 26F-Shane Forte; 4. 66B-Brett McGhie; 5. 87-Kyler Barraza; 6. 0-Ashleigh Johnson; 7. 9J-Bert Johnson; 8. 1W-Mike Wheeler
Group Two Qualifying: 1. 70-Raquel Ivie; 2. 3H-Dave Hibbard; 3. 1K-Kinzer Cox; 4. 8X-Otto Jorgenson; 5. 38-Eric Bowers; 6. 66T-Tyrell Mead; 7. 94-Blaine Cory
Group Three Qualifying: 1. 7-Tyler Thompson; 2. 44-Jake Helsel; 3. 1-Bailey Hibbard; 4. 3B-Ian Bandey; 5. 14B-Bailey Sucich; 6. 42-Christian Osborne; 7. 2-Cory Swatzina
Group Four Qualifying: 1. 17-Kyle Miller; 2. 18H-A.J. Harbaugh; 3. 25S-Camden Robustelli; 4. 12-Steven Snawder; 5. 21W-Jake Wheeler; 6. 4J-Allison Journey; 7. 4-Justin Tracy
Heat One: 1. 0-Ashleigh Johnson; 2. 66B-Brett McGhie; 3. 26F-Shane Forte; 4. 18T-Tanner Holmes; 5. 87-Kyler Barraza; 6. 9J-Bert Johnson; 7. 71-Jake Waddell; DNS 1W-Mike Wheeler
Heat Two: 1. 1K-Kinzer Cox; 2. 38-Eric Bowers; 3. 66T-Tyrell Mead; 4. 8X-Otto Jorgenson; 5. 70-Raquel Ivie; DQ 3H-Dave Hibbard; DQ 94-Blaine Cory
Heat Three: 1. 44-Jake Helsel; 2. 14B-Bailey Sucich; 3. 7-Tyler Thompson; 4. 3B-Ian Bandey; 5. 42-Christian Osborne; DNS 1-Bailey Hibbard; DNS 2-Cory Swatzina
Heat Four: 1. 4J-Allison Journey; 2. 17-Kyle Miller; 3. 21W-Jake Wheeler; 4. 18H-A.J. Harbaugh; 5. 25S-Camden Robustelli; 6. 4-Justin Tracy; 7. 12-Steven Snawder
B Feature: 1. 25S-Camden Robustelli; 2. 87-Kyler Barraza; 3. 71-Jake Waddell; 4. 94-Blaine Cory; 5. 12-Steven Snawder; 6. 9J-Bert Johnson; 7. 3B-Ian Bandey; 8. 4-Justin Tracy; 9. 1W-Mike Wheeler; DNS 42-Christian Osborne; DNS 3H-Dave Hibbard; DNS 1-Bailey Hibbard; DNS 2-Cory Swatzina
A Feature: 1. 17-Kyle Miller; 2. 7-Tyler Thompson; 3. 1K-Kinzer Cox; 4. 44-Jake Helsel; 5. 18T-Tanner Holmes; 6. 0-Ashleigh Johnson; 7. 66B-Brett McGhie; 8. 18H-A.J. Harbaugh; 9. 21W-Jake Wheeler; 10. 4J-Allison Journey; 11. 87-Kyler Barraza; 12. 25S-Camden Robustelli; 13. 94-Blaine Cory; 14. 38-Eric Bowers; 15. 26F-Shane Forte; 16. 66T-Tyrell Mead; 17. 70-Raquel Ivie; 18. 12-Steven Snawder; 19. 14B-Bailey Sucich; 20. 71-Jake Waddell; DNS 8X-Otto Jorgenson
Current ISCS Week Of Speed Points (Top Ten):
1K-Kinzer Cox 272; 2. 7-Tyler Thompson 265; 3. 14B-Bailey Sucich 255; 4. 26F-Shane Forte 254; T 18T-Tanner Holmes 254; 6. 21W-Jake Wheeler 250; 7. 87-Kyler Barraza 249; 8. 44-Jake Helsel 242; 9. 18H-A.J. Harbaugh 240; 10. 0-Ashleigh Johnson 239
---
Submitted By: Ben Deatherage
Back to News