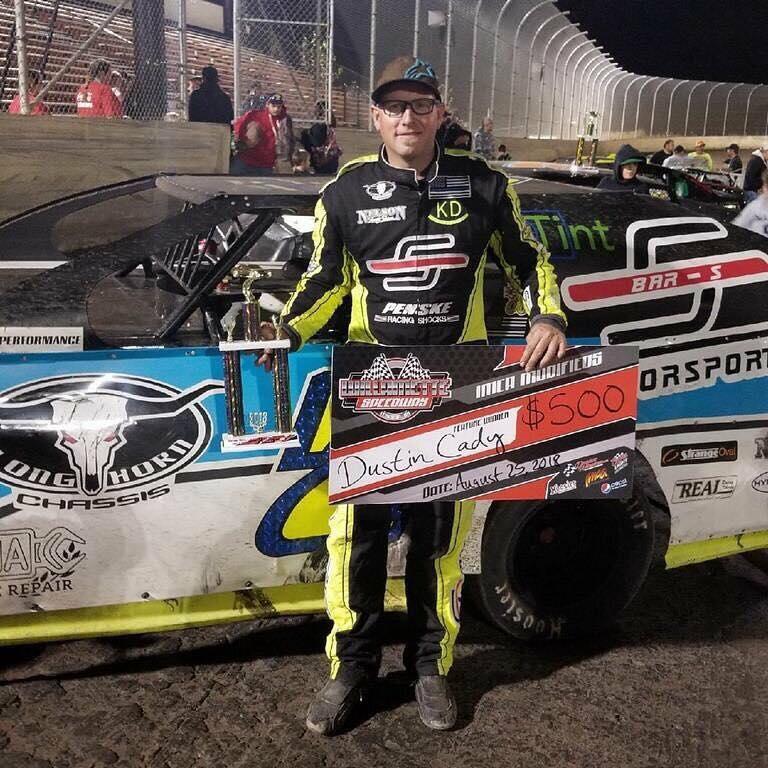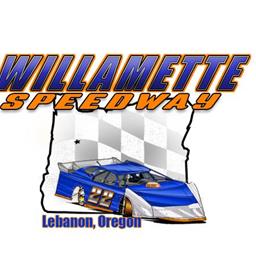 8/27/2018
Willamette Speedway
---
D. Cady, Elkins, Boyd, B. Gentry, And Scott All Victorious At Willamette On August 25th
D. Cady, Elkins, Boyd, B. Gentry, And Scott All Victorious At Willamette On August 25th
By Ben Deatherage
(Photo Courtesy of Bar S Motorsports)
Lebanon, Oregon- Willamette Speedway returned to racing on Saturday, August 25th for just a single night of action on the 1/3-mile clay oval. Five classes occupied the pits including the IMCA Modifieds, Super Sports, Sportsman, IMCA Stock Cars, and Hornets.
Albany's Dustin Cady returned to victory lane after a brief absence to win his fifth main event of the year. Salem native Doug Elkins earned his fifth win of the year, tied for the most with B.J. Donofrio, as he is still in a tight point battle with Randy Barley. Randy Boyd, of Lebanon, won his second race of the current campaign in the Sportsman division.
Lafayette pilot Brad Gentry paid his second visit to the winner's circle in IMCA Stock Cars to be level with Dakota Goddard in the win chart. Finally, K.C. Scott, making the journey from Springfield, bested the Hornet competition for the fourth time this season.
Willamette Speedway returns for one of its biggest race weekends this Friday, August 31st, and Saturday, September 1st. The Fall Frenzy will consist of two consecutive nights of racing featuring Super Late Models, IMCA Modifieds, Super Sports, Sportsman, Street Stocks, and IMCA Stock Cars. Saturday will be the final race for the IMCA Stock Car division while also Saturday is reserved for the biggest Street Stock race of the season, the Iron Giant.
Tickets each night are $14.00 for Adults, Junior/Military/Senior $10.00, Youth (6-12) $5.00, 5 and Under FREE, and a Family Pass (2 Adults and up to 4 Youths) $35.00. Front Gates open at 4:00 PM, Pit Gate 4:30 with Racing around 6:00. Tickets can be purchased online at www.pnwdirtracing.com . For more information log on to www.trophymotorsports.com.
But wait it doesn't stop there as "The Greatest Show On Dirt", the World of Outlaws Sprint Car Series returns for their one and only Oregon stop on Wednesday, September 5th. Super Late Model will play the role as the support class for the evening. Tickets can be purchased on the sites mentioned above. General Admission tickets can be bought at the front gate this weekend as well as the day of the event.
Race Results:
Saturday, August 25th, 2018
Willamette Speedway
Lebanon, Oregon
IMCA Modifieds
A Feature 1: 1. 7-Dustin Cady, ; 2. V13-Grey Ferrando, ; 3. 37-Steve Suckow, ; 4. 57-Kenny Miller, ; 5. 21.5-Mark Vonsild, ; 6. 31-Loren Kruesi, ; 7. 63-Mike Sweere, ; 8. 43-Sandy Sanders, ; 9. 2-AJ Davis, ; 10. 27-Dick Wright, ; 11. 4-Kersey Ferrando,
Super Sports
A Feature 1: 1. 46-Douglas Elkins, ; 2. 17-Vahn Stone, ; 3. 99-BJ Donofrio, ; 4. 55-Dave Miller, ; 5. 61-Brian Smith, ; 6. 13B-Randy Barley, ; 7. 33-Jordan Wright, ; 8. 88-Brian Winkler, ; 9. 75X-Darryl Blanchard, ; 10. 2-Brian Gary, ; 11. 30-Robert Mercer, ; 12. 01-Mike Robbins, ; 13. 88F-Steve Fuller,
Sportsman
A Feature 1: 1. 27-Randy Boyd, ; 2. 97-Ryan Emry, ; 3. 34-Jeff Rash, ; 4. 10-Brian Brown, ; 5. 39-Alex Emry, ; 6. 2A-Andy Breshears, ; 7. 333-Eric Lindquist, ; 8. 5-Dave Okie, ; 9. 14-Tom Whiting, ; 10. 0-Clyde Rood, ; 11. 2-Glen Hackney, ; 12. 2X-Jerry Casey,
IMCA Stock Cars
A Feature 1: 1. 2G-Brad Gentry, ; 2. 20G-Sean Gentry, ; 3. 11C-Richard Clink, ; 4. 10-4-Roger Schneider, ; 5. 42-Wayne Clink,
Hornets
A Feature 1: 1. 30-K.C. Scott, ; 2. 22X-Matt Diller, ; 3. 21T-Devon Traslavina, ; 4. V8-Chloe Van Sant, ; 5. 48-Matthew Emry, ; 6. 17-Boden Lindberg, ; 7. V4-Kelsey Drager, ; 8. 428-Tiana Friend,
---
Submitted By: Ben Deatherage
Back to News