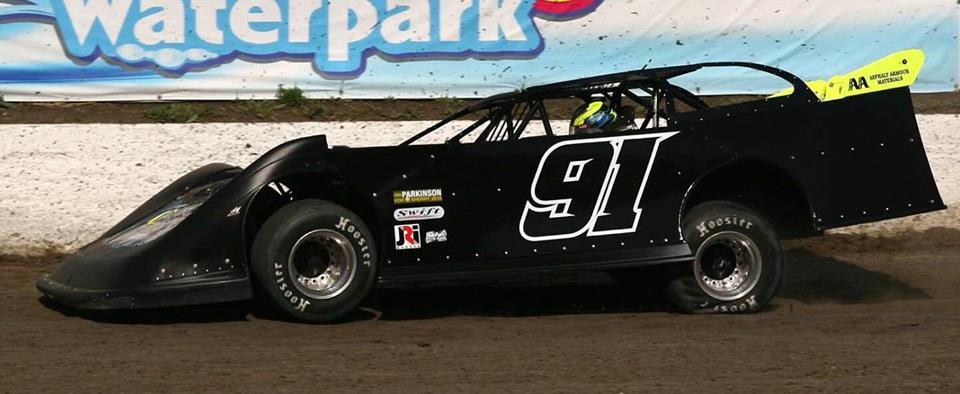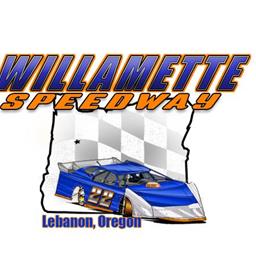 9/1/2018
Willamette Speedway
---
Toste, James, Elkins, R. Emry, K. Yeack, And D. Cronk Win First Night Of Fall Frenzy At Willamette
Toste, James, Elkins, R. Emry, K. Yeack, And D. Cronk Win First Night Of Fall Frenzy At Willamette
By Ben Deatherage
(Photo Courtesy of Tim Douglas)
Lebanon, Oregon- Willamette Speedway opened up their big two-day Labor Day Weekend extravaganza on Friday, August 31st, for the first night of the 2018 Fall Frenzy. An impressive field of competitors made the trip from Oregon, Washington, and California. Six classes were on the card including Super Late Models, IMCA Modifieds, Super Sports, Sportsman, Street Stocks, and IMCA Stock Cars.
Making the long journey from gorgeous and scenic Pismo Beach, California, Tony Toste managed to win in the Super Late Models. Albany youngster Bricen James made his fifth trip to victory lane in IMCA Modified competition. Salem's Doug Elkins bested the Super Sport ranks for the sixth time, and the second straight occasion.
Ryan Emry, out of Corvallis, manged to collect his fifth win of the current campaign in the Sportsman division. Despite a three-month absence from Willamette Speedway Kyle Yeack, from Lebanon, parked it in the winner's circle for the third time against the Street Stocks and he won the last time he was there back in late May. Portland veteran David Cronk won his second IMCA Stock Car race of the season making a three-way tie for the most wins in the class.
Racing returns to the famed 1/3-mile clay oval on Saturday, September 1st, for the final night of the Fall Frenzy. Classes in competition include the Super Late Models, IMCA Modifieds, Super Sports, Sportsman, Street Stocks, and IMCA Stock Cars. Saturday will be the final race for the IMCA Stock Car division while also Saturday is reserved for the biggest Street Stock race of the season, the Iron Giant.
Tickets are $14.00 for Adults, Junior/Military/Senior $10.00, Youth (6-12) $5.00, 5 and Under FREE, and a Family Pass (2 Adults and up to 4 Youths) $35.00. Front Gates open at 4:00 PM, Pit Gate 4:30 with Racing around 6:00. Tickets can be purchased online at www.pnwdirtracing.com . For more information log on to www.trophymotorsports.com.
But wait it doesn't stop there as "The Greatest Show On Dirt", the World of Outlaws Sprint Car Series returns for their one and only Oregon stop on Wednesday, September 5th. Super Late Model will play the role as the support class for the evening. Tickets can be purchased on the sites mentioned above. General Admission tickets can be bought at the front gate this weekend as well as the day of the event.
Race Results:
Fall Frenzy Night #1
Friday, August 31st, 2018
Willamette Speedway
Lebanon, Oregon
Super Late Models
A Feature 1: 1. 91-Tony Toste, ; 2. 111-Joey Tanner, ; 3. 30-Jeremy Shank, ; 4. 38-Thomas Hunziker, ; 5. 61-Brian Smith, ; 6. 1-Jason Papich, ; 7. 94-Randy Boyd, ; 8. 9-Rob Campos, ; 9. 28-Jimmy Whisler, ; 10. 78-Jeff Rash, ; 11. U2-Bruce Hipple, ; 12. 66-Garrett Dees, ; 13. 74-Dan Deibele, ; 14. 4E-Trent Elliott, ; 15. 51-Todd Sieg, ; 16. 71-Bryan Norton, ; 17. 17-Mclain Beaudoin,
IMCA Modifieds
A Feature 1: 1. 13-Bricen James, ; 2. 7-Dustin Cady, ; 3. 77S-Jerry Schram, ; 4. 4-Justin Duty, ; 5. 66-Doug Lockwood, ; 6. 7K-Kevin Smith, ; 7. 22S-Jimmy Schram, ; 8. 63-Mike Sweere, ; 9. V13-Grey Ferrando, ; 10. 28-Eston Whisler, ; 11. 7F-Sean Fox, ; 12. 67-Mike George, ; 13. 31-Loren Kruesi, ; 14. 2-AJ Davis, ; 15. 30B-Micah Burkley, ; 16. 97-Greg Walters, ; 17. 44P-Sam Potter,
Super Sports
A Feature 1: 1. 46-Douglas Elkins, ; 2. 99-BJ Donofrio, ; 3. 17-Vahn Stone, ; 4. 55-Dave Miller, ; 5. 13B-Randy Barley, ; 6. 36-Jody Tanner, ; 7. 61-Jerry Casey, ; 8. 75X-Darryl Blanchard, ; 9. 2-Brian Gary, ; 10. 01-Mike Robbins, ; 11. 30-Robert Mercer,
Sportsman
A Feature 1: 1. 97-Ryan Emry, ; 2. 49-Tom Yeack, ; 3. 34-Jeff Rash, ; 4. 10-Brian Brown, ; 5. 0-Clyde Rood, ; 6. 39-Alex Emry, ; 7. 2A-Andy Breshears, ; 8. 25-James Slover, ; 9. 55-Casey Rhoades, ; 10. 27-Kent Emry, ; 11. 2-Glen Hackney, ; (DNS) 2X-Brian Smith, ; (DNS) 333-Eric Lindquist, ; (DNS) 5-Dave Okie,
Street Stocks
A Feature 1: 1. 47-Kyle Yeack, ; 2. 89-Dakota Godard, ; 3. 99-Justin Evans, ; 4. 74-Andrew Langan, ; 5. 2-Jack Parshall, ; 6. 88-Kevin Roberts, ; 7. 04-Brody Sim, ; 8. S29-Sean Cronk, ; 9. 98-Shawn French, ; 10. 14-Jeff Daniel, ; 11. 07-Charlie Culpepper, ; 12. 98S-Kevin Scofield, ; 13. 32-Steve Nusom, ; 14. K2-Kyndal Irvine, ; 15. 36-Jody Tanner, ; 16. 10-4-Roger Schneider, ; 17. 52-Tim Clark, ; 18. 23-Mary Kate True, ; (DNS) 33E-Hunter Bloom, ; (DNS) 11-Joey Cannon, ; (DNS) R31-Michael Hollingsworth,
IMCA Stock Cars
A Feature 1: 1. 29-David Cronk, ; 2. 20G-Sean Gentry, ; 3. 89-Dakota Godard, ; 4. 88-Kevin Roberts, ; 5. 11C-Richard Clink, ; 6. 42-Wayne Clink, ; 7. 10-4-Roger Schneider, ; 8. 2G-Brad Gentry, ; 9. 129-Brian Cronk, ; (DNS) 33E-Jake Mayden,
---
Submitted By: Ben Deatherage
Back to News