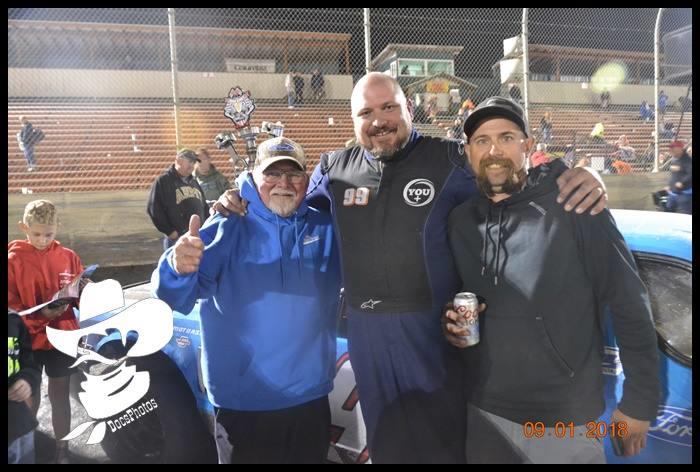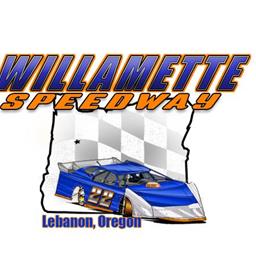 9/3/2018
Willamette Speedway
---
Justin Evans Wins 2018 Iron Giant At Willamette; Papich, Smith, Stone, T. Yeack, And Godard Also Get Saturday Wins
Justin Evans Wins 2018 Iron Giant At Willamette; Papich, Smith, Stone, T. Yeack, And Godard Also Get Saturday Wins
By Ben Deatherage
(Photo Courtesy of Doc's Photos)
Lebanon, Oregon- Willamette Speedway returned to racing on Saturday, September 1st, for the second night of the Fall Frenzy. All six classes from the previous night were once again in attendance including the Super Late Models, IMCA Modifieds, Super Sports, Sportsman, Street Stocks, and IMCA Stock Cars. The evening marked the biggest Street Stock race of the season, for the Iron Giant, while it was the final race of the season for the IMCA Stock Cars.
Lebanon's Justin Evans picked up the win in the Iron Giant finale for car owner Al Flora. It is the first time that Evans has won the prestigious event in as many years, joining Kyle Yeack and Joey Tanner, while also collecting his fifth win of 2018. Nipomo, California's Jason Papich made it a Golden State sweep in Late Model ranks by winning night two.
Sprint Car veteran Kevin Smith, of Sedro-Woolley, Washington, earned his first IMCA Modified victory at Willamette. A big win would be procured in the Super Sports as Vahn Stone, now residing in Scotts Mills, parked it in victory lane for the first time this season. Crawfordsville native Tom Yeack earned his second Sportsman triumph of the current campaign. Finally, Dakota Godard, now living in Albany, crossed the line in first in the IMCA Stock Cars for the third time and to go with it sealed the deal to win the track championship in the brand-new division.
Willamette Speedway hosts the World Of Outlaw Sprint Car Series on Wednesday, September 5th, for their one and only stop in the state of Oregon. This will be your one chance to see 410 Sprints on the 1/3-mile clay oval with some of the best drivers on the planet in attendance. The Super Late Models will be on the card as the support class and should put on a great show. Tickets can be purchased online at www.pnwdirtracing.com . For more information log on to www.trophymotorsports.com.
Race Results:
Iron Giant
Fall Frenzy Night #2
Saturday, September 1st, 2018
Willamette Speedway
Lebanon, Oregon
Super Late Models
A Feature 1: 1. 1-Jason Papich, ; 2. 16S-Greg Walters, ; 3. 111-Joey Tanner, ; 4. 28-Jimmy Whisler, ; 5. 91-Tony Toste, ; 6. 30-Jeremy Shank, ; 7. 8-Daniel Modaff, ; 8. 38-Thomas Hunziker, ; 9. 71-Bryan Norton, ; 10. 74-Dan Deibele, ; 11. 9-Rob Campos, ; 12. 4E-Trent Elliott, ; 13. U2-Bruce Hipple, ; 14. 66-Garrett Dees, ; 15. 97-Ryan Emry, ; 16. 78-Jeff Rash, ; 17. 94-Randy Boyd, ; 18. 17-Mclain Beaudoin, ; 19. 5-Britton Donahoo, ; 20. 61-Brian Smith, ; (DNS) 21-BJ Donofrio,
IMCA Modifieds
A Feature 1: 1. 7K-Kevin Smith, ; 2. 66-Doug Lockwood, ; 3. 63-Mike Sweere, ; 4. 13-Bricen James, ; 5. 77S-Jerry Schram, ; 6. 7-Dustin Cady, ; 7. V13-Grey Ferrando, ; 8. 97-Greg Walters, ; 9. 22S-Jimmy Schram, ; 10. 7F-Sean Fox, ; 11. 67-Mike George, ; 12. 18R-Ryan Baker, ; 13. 2-AJ Davis, ; 14. OH-NO-Dave Hamm, ; 15. 4-Justin Duty, ; 16. 30B-Micah Burkley, ; 17. 44P-Sam Potter, ; 18. 28-Eston Whisler,
Super Sports
A Feature 1: 1. 17-Vahn Stone, ; 2. 46-Douglas Elkins, ; 3. 13B-Randy Barley, ; 4. 55-Dave Miller, ; 5. 36-Jody Tanner, ; 6. 61-Jerry Casey, ; 7. 99-BJ Donofrio, ; 8. 01-Mike Robbins, ; 9. 22-Mike Betker, ; 10. 30-Robert Mercer, ; 11. 75X-Darryl Blanchard,
Sportsman
A Feature 1: 1. 49-Tom Yeack, ; 2. 97-Ryan Emry, ; 3. 34-Jeff Rash, ; 4. 27-Kent Emry, ; 5. 10-Brian Brown, ; 6. 2A-Andy Breshears, ; 7. 55-Casey Rhoades, ; 8. 2-Glen Hackney, ; 9. 333-Eric Lindquist, ; 10. 39-Alex Emry, ; 11. 0-Clyde Rood, ; 12. 51-Bradley Lehto, ; 13. 00-Dillon Solum,
Street Stocks
A Feature 1: 1. 99-Justin Evans, ; 2. 7W-Chris West, ; 3. 88-Kevin Roberts, ; 4. 2G-Brad Gentry, ; 5. 47-Kyle Yeack, ; 6. 29-David Cronk, ; 7. 74-Andrew Langan, ; 8. 20G-Sean Gentry, ; 9. S29-Sean Cronk, ; 10. 04T-Joey Tardio, ; 11. 33-Arnie Case, ; 12. 89-Dakota Godard, ; 13. 33E3-Ray Bloom, ; 14. 53L-Bernie Lujan, ; 15. 98-Shawn French, ; 16. 12-Zack Simpson, ; 17. 32-Steve Nusom, ; 18. 98J-Josh Shellar, ; 19. 22-Mckenzie Lockhart, ; 20. 9-Justin Ryker, ; 21. 04-Brody Sim, ; 22. 129-Brian Cronk, ; 23. 11S-Donald Schott, ; 24. 10-Steve Dubisar,
B Feature 1: 1. 47-Kyle Yeack, ; 2. 33-Arnie Case, ; 3. 32-Steve Nusom, ; 4. 89-Dakota Godard, ; 5. 33E3-Ray Bloom, ; 6. 04-Brody Sim, ; 7. 07-Charlie Culpepper, ; 8. 98S-Kevin Scofield, ; 9. 19W-Skyler Winebarger, ; 10. 36-Jody Tanner, ; 11. 77-Bob Smith, ; 12. K2-Kyndal Irvine, ; 13. 88W-Corey West, ; 14. R31-Michael Hollingsworth, ; 15. 95-Shannon Horn, ; 16. 4-Don Stroud, ; (DNS) 3K-Dominic Conti,
B Feature 2: 1. 22-Mckenzie Lockhart, ; 2. 29-David Cronk, ; 3. 53L-Bernie Lujan, ; 4. 10-Steve Dubisar, ; 5. 98J-Josh Shellar, ; 6. 9-Justin Ryker, ; 7. 33X-Josh Bearden, ; 8. 44-Troy Chamberlain, ; 9. 14-Jeff Daniel, ; 10. 5-Gary Perry, ; 11. 87-Rod Lowe, ; 12. 11C-Richard Clink, ; 13. 50CAL-Scott Boss, ; 14. 23-Mary Kate True, ; (DNS) 2-Jack Parshall, ; (DNS) 42-Wayne Clink,
IMCA Stock Cars
A Feature 1: 1. 89-Dakota Godard, ; 2. 3K-Dominic Conti, ; 3. 88-Kevin Roberts, ; 4. 10-4-Roger Schneider, ; 5. 11C-Richard Clink, ; 6. 42-Wayne Clink,
---
Submitted By: Ben Deatherage
Article Media
Back to News