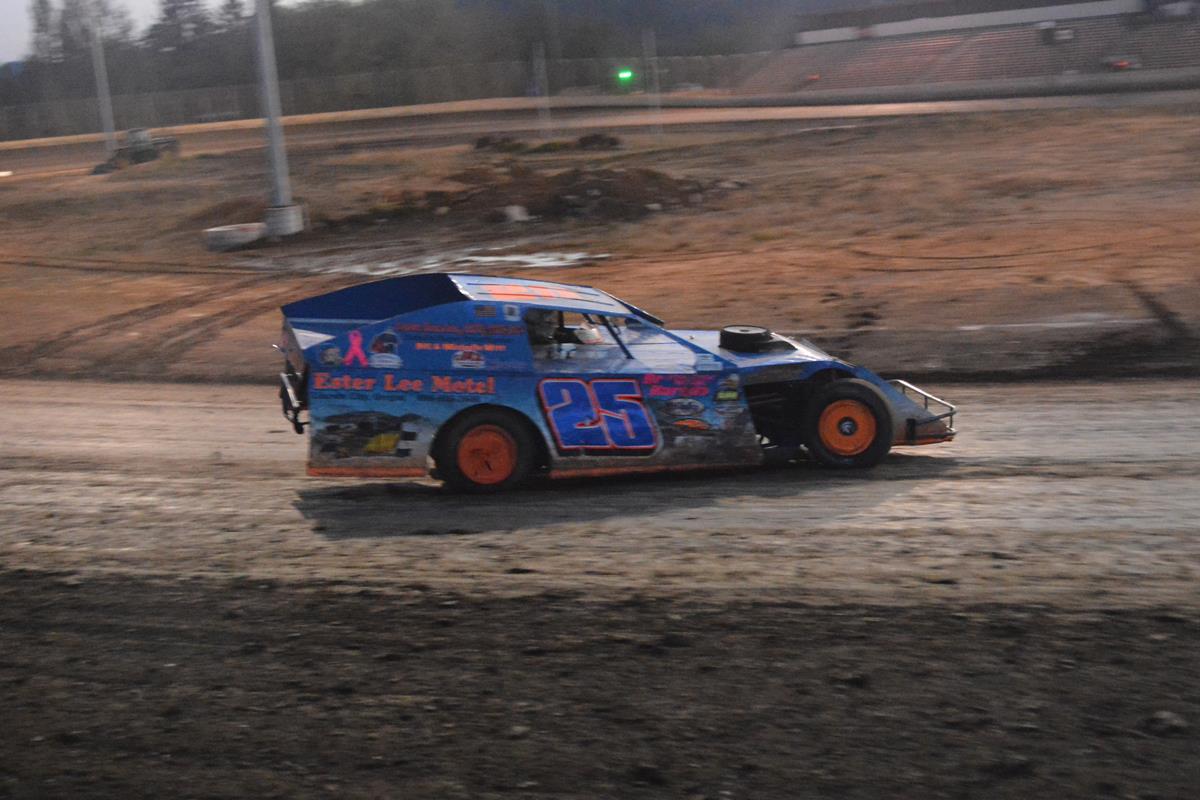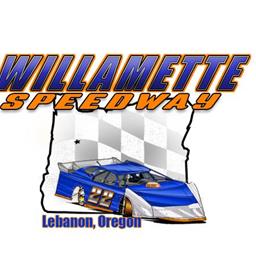 9/23/2020
Willamette Speedway
---
Barley, Cassell, Moore, C. Slover, Cronk, And Beaudoin Get 9-19 Willamette Wins
Barley, Cassell, Moore, C. Slover, Cronk, And Beaudoin Get 9-19 Willamette Wins
By Stephanie Deatherage
(Photo Courtesy of Doc's Photos)
Lebanon, Oregon- The Willamette Speedway was able to outduel mother nature on Saturday, September 19thto complete their fifth event of 2020. Before the weekend, the Willamette Valley was plagued with smoke from neighboring wildfires coupled with poor air quality. To top it all off late in the week much needed rainstorms dampened the grounds. Divisions that were on hand included the Super Late Models, IMCA Modifieds, Super Sports, Sportsman, Street Stocks, and Hornets.
In the Late Models, Albany veteran Randy Barley scored a huge win in the class for his first win of the season. He is the fourth different winner of current campaign. Gresham's Hunter Johnson was a respectable second followed by Jeff Davis, in the Glenn Hackney owned car, in third. Steve Moore, from Scio and racing for car owner B.J. Donofrio, rounded up the finishing order, in fourth.
For the IMCA Modifieds, it was Craig Cassell taking care of business. The Albany racer parked his mount in victory lane for the first occasion in 2020 to become the fourth different victor of the year. Lebanon's Cory Yeack was scored second over third finishing Sam Potter, of Monmouth.
Steve Moore, performing double duty for car owner Donofrio, scored the Super Sport win. Moore is the fourth different driver in as many races in the class. Stayton's Terry Sanders hit the finish wire in second with third going to Greg Heinrichs, of Salem. The finishing order was completed by Lebanon racer Chad Slover, in fourth.
Chad Slover continued his dominance in the Sportsman ranks. Slover now has achieved three wins in the division. Corvallis' Ryan Emry was the runner-up with third being credited to Steve Piefer, also of Corvallis. The balance of the top five would consist of Waldport chauffeur, Mike Lavery, and Marcola's Roger Bell, in fourth and fifth.
Sean Cronk, of Portland, bested the field in the Street Stocks. Amazingly in five races the class has yet to see a repeat winner. Lafayette veteran Sean Gentry collected second followed by Rod McCombs, of Albany, in third. Tim Jenner, from Newberg, placed fourth while fifth went to Forest Grove's Joey Tardio.
In the Hornets, Portland pilot Scott Beaudoin became the most recent face to grace the winner's circle. Beaudoin won the main event and is the fourth driver to have the honor in the division this year. Matthew Emry, of Corvallis, placed second while Travis Koch, from Vancouver, Washington, got third. Dayton's Brad Gentry got fourth over fifth finishing Andrew Wright, of Salem. Earlier in the evening Koch would set a new track record of 18.212 seconds.
Willamette Speedway is back in action on Saturday, September 26th. For the latest information and new be sure and visit www.trophymotorsports.com or follow along on the track Facebook page.
2020 Willamette Speedway Sponsors/Marketing Partners:
Peterson Cat
Western Beverage Company
Anheuser-Busch
Budweiser
Bud Light
10 Barrel Brewing Company
Nature Quest LLC
THC Recreation Station of Salem
CBD Express of Salem
W3 Wireless
Wirth Wifi
Buck's Sanitation Service
Crocker's Cars
Race Results:
Saturday, September 19th, 2020
Willamette Speedway
Lebanon, Oregon
Super Late Models
A Feature: 1. Randy Barley; 2. Hunter Johnson; 3. Jeff Davis; 4. Steve Moore
IMCA Modifieds
A Feature: 1. Craig Cassell; 2. Cory Yeack; 3. Sam Potter
Super Sports
A Feature: 1. Steve Moore; 2. Terry Sanders; 3. Greg Heinrichs; 4. Chad Slover
Sportsman
A Feature: 1. Chad Slover; 2. Ryan Emry; 3. Steve Piefer; 4. Mike Lavery; 5. Roger Bell; 6. Jody Tanner; 7. Wes Roles; 8. James Slover; 9. Jeff Davis
Street Stock
A Feature: 1. Sean Cronk; 2. Sean Gentry; 3. Rod McCombs; 4. Tim Jenner; 5. Joey Tardio; 6. Phil Lovvorn; 7. James Baker; 8. Sam Potter; 9. Jody Tanner; 10. Kyndall Irvine; 11. Loren Graham
Hornets
A Feature: 1. Scott Beaudoin; 2. Matthew Emry; 3. Travis Koch; 4. Brad Gentry; 5. Andrew Wright; 6. James Skeslien; 7. Matt Wood
---
Submitted By: Ben Deatherage
Back to News