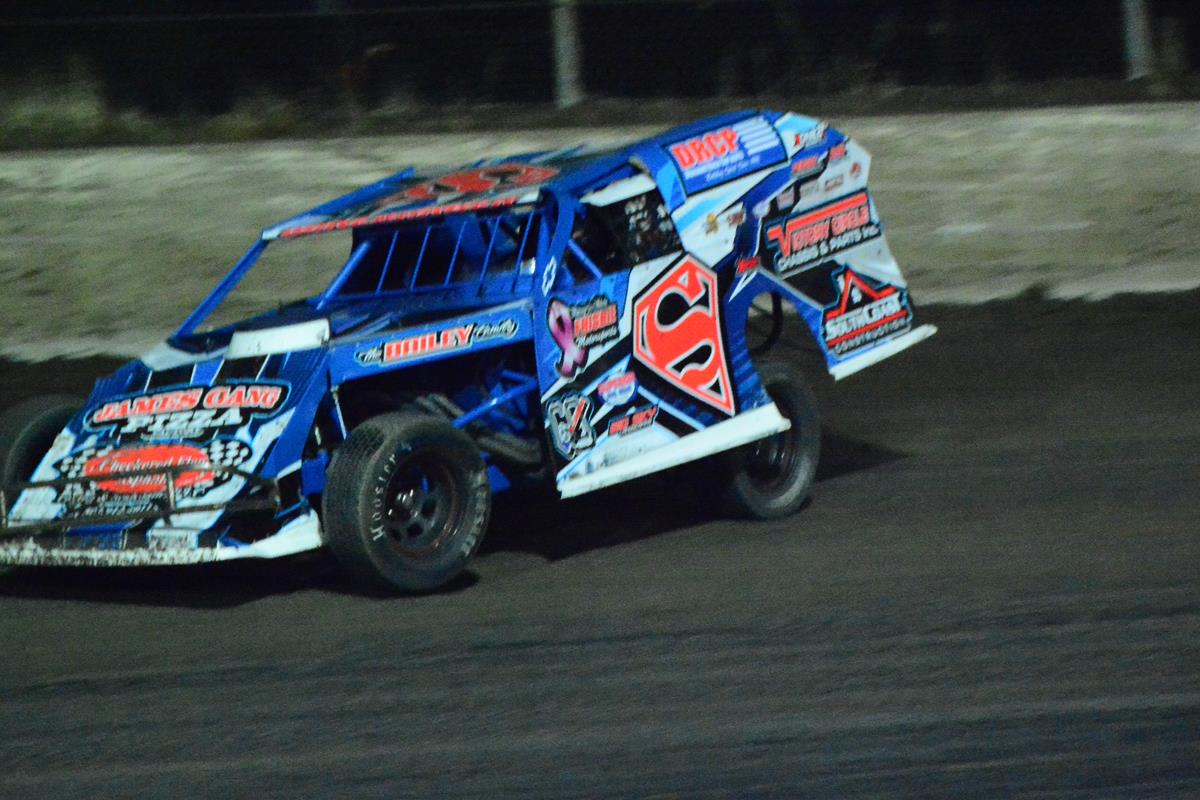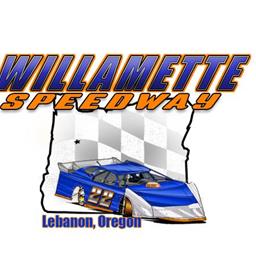 10/7/2020
Willamette Speedway
---
Winebarger Scores Three Willamette Wins In One Night; Moore, Simpson, And B. Gentry Also Hit Pay Lebanon Dirt On October 3rd
Winebarger Scores Three Willamette Wins In One Night; Moore, Simpson, And B. Gentry Also Hit Pay Lebanon Dirt On October 3rd
By Stephanie Deatherage
(Photo Courtesy of Doc's Photos)
Lebanon, Oregon- The Willamette Speedway got back to the racing fray on Saturday, October 3rd. It was a rare instance that the historic ?-mile clay oval got the opportunity to host a race in the tenth month of the year. Classes in action included IMCA Modifieds, IMCA Sport Mods, Super Sports, Sportsman, Street Stocks, and Hornets.
Collen Winebarger got the job done in the IMCA Modified ranks. It is the first time that the Corbett chauffeur has won at Willamette in 2020 but is his eighth overall IMCA Modified win of the campaign. He now has been victorious at seven different racetracks in four states and the first time since August 8th at Grays Harbor Raceway in Elma, Washington.
Bricen James, from Albany, was scored second while in third was Tyson Blood, of Tumwater, Washington. Aloha's Doug Lockwood and Lebanon racer Kyler Yeack were fourth and fifth.
The IMCA Sport Mods made just their second appearance of 2020 at Lebanon. Collen Winebarger again struck gold as he piloted the Michael Melton owned entry to victory lane. Central Point's Jorddon Braaten got the runner-up spot over third finishing Matt Sanders, of Brookings. Isaac Sanders, also from Brookings, placed fourth with fifth going to Roseburg's Doug Coffman.
Steve Moore is on a hot streak in the Super Sports. The Scio veteran now has accumulated three straight main event wins in the B.J. Donofrio owned machine. Albany's Randy Barley was credited with second while finishing third would be Brian Winkler, of Newberg. Robert Mercer and Lebanon's Chad Slover rounded up the top five, in fourth and fifth.
Collen Winebarger wasn't done with his winning ways. Hopping in Chris Hallberg's Sport Mod to run in the Sportsman division, he wheeled the car to the front to record not his first nor second but third triumph on the night. Kent Emry, of Coburg, hit the wire in the runner-up spot with Chad Slover behind him, in third. The fourth and fifth place finishers were Steve Piefer, from Corvallis and Scio's Anthony Bentley.
Hoquiam, Washington's Zack Simpson picked up a big win in the Street Stocks and the long trip back home worth it. Simpson became the sixth different winner in seven races at Willamette. Gresham gasser Kevin Roberts was second with third going to Kyle Yeack. Lafayette's Sean Gentry placed fourth over fifth place finishing Arnie Caser, of Arnie Case.
Finally, the Hornets witnessed Brad Gentry conquer the class once more. Gentry, of Dayton, is now tied with Matt Diller for most wins in the class this year. Bradley Martin, from Dexter, finished in second while Salem's Andrew Wright earned third. Ron Skeslien, of Albany, posted a fourth-place result with fifth going to Lebanon driver Jeremiah Johnson.
Willamette Speedway is slated to get back to racing this weekend. Be sure and stay up to date by visiting the track website at trophymotorsports.com or the Facebook page.
Race Results:
Saturday, October 3rd, 2020
Willamette Speedway
Lebanon, Oregon
IMCA Modifieds
A Feature: 1. Collen Winebarger; 2. Bricen James; 3. Tyson Blood; 4. Doug Lockwood; 5. Kyle Yeack; 6. Brian Winkler; 7. Sam Potter; 8. Mason Dineen; 9. Brian Harding; 10. Kevin Hanson; 11. Jason Begley; 12. Shawn Scofield
IMCA Sport Mods
A Feature: 1. Collen Winebarger; 2. Jorddon Braaten; 3. Matt Sanders; 4. Isaac Sanders; 5. Doug Coffman; 6. Chris Hallberg; 7. Jimmy Schram; 8. Travis Pruitt; 9. Michael Lavery; 10. Roger Bell
Super Sports
A Feature: 1. Steve Moore; 2. Randy Barley; 3. Brian Winkler; 4. Robert Mercer; 5. Chad Slover; 6. Greg Heinrichs; 7. Terry Sanders; 8. Shane Davis
Sportsman
A Feature: 1. Collen Winebarger; 2. Kent Emry; 3. Chad Slover; 4. Steve Piefer; 5. Anthony Bentley; 6. Darron Clark; 7. Clay Debban; 8. Jared Simmons
Street Stocks
A Feature: 1. Zack Simpson; 2. Kevin Roberts; 3. Kyle Yeack; 4. Sean Gentry; 5. Arnie Case; 6. Rod McCombs; 7. Phil Lovvorn; 8. J.J. Irvine; 9. Tim Jenner; 10. Kevin Scofield; 11. Logan Kruesi; 12. Darron Clark; 13. Danny O'Neil; 14. Dom Conti
Hornets
A Feature: 1. Brad Gentry; 2. Bradley Martin; 3. Andrew Wright; 4. Ron Skeslien; 5. Jeremiah Johnson; 6. James Skeslien; 7. Matt Wood; 8. Brad Hicks; 9. C.J. Davidson
---
Submitted By: Ben Deatherage
Back to News