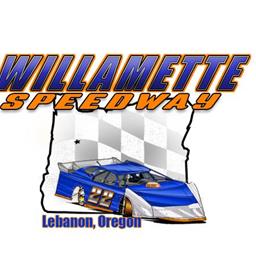 9/6/2021
Willamette Speedway
---
Hunzinker takes Clair Arnold Memorial at Willamette Speedway
Hunzinker takes Clair Arnold Memorial at Willamette Speedway
LEBANON, Ore. – Thomas Hunzinker survived a tight three-way battle and pocketed $5,000 for winning the Clair Arnold Memorial at Willamette Speedway on Saturday, September 4.
Skyline Ford and the Donofrio family presented the race and put up the top prize, with additional sponsorship from Marc Nelson Oil Products and Green Acres Landscape.
In addition to the Super Late Model feature, Aaron Bloom won in IMCA Sport Mods, Greg Henrichs won in Super Sports, Dakota Godard took the Street Stock race, Opie Donaldson won in IMCA Sport Compacts and Bloom doubled up when came home first in Sportsman at the 1/3-mile dirt oval originally opened and operated by Clair Arnold, who passed away in 2009 at the age of 81.
Being run for the first time since 2018, the Clair Arnold Memorial has traditionally drawn a strong field of dirt Late Models, with the $5,000 top prize adding to allure. That was indeed the case this year, with 20 cars signing in to establish bragging rights.
McLain Beaudoin set fast time in qualifying with a lap of 14.772 seconds. Heat races were won by Steve Moore, Trevor Glasser and Rob Mayea. Jeff Rash started the 81-lap main event on pole with Sonny Modaff alongside.
Hunzinker started third, but within the first few laps took over the lead, one he would not relinquish the rest of the night. That's not to say it was easy, however. John Duty started seventh but was in third by lap 15, and around lap 30 was in second. Mayea started third, dropped as low as sixth at one point, but rebounded to take third. In the end Hunzinker held off Duty by 0.315 seconds, with Mayea just 0.815 seconds out of the lead. Rounding out the top-10 finishers were Rash, Beaudoin, Jordan Wright, Darren Coffell, Moore, Mark Thompson and Joey Tanner.
In IMCA Sport Mods, Greg Schellhorn set fast time with a lap of 17.039 seconds. Heat races were won by Schellhorn and Trevor Points. Roger Bell led the field to green in the 23-lap main. Bloom won by 0.608 seconds over Schellhorn, followed by Points, Dalton Bloom and Ray Bloom.
In Super Sports, Moore, pulling double duty on the night, set fast time with a lap of 16.815 seconds. Henry Young won the heat race, with Trent Custer starting the 19-lap main on pole. Henrichs emerged with the win after a hectic last few laps, followed by Custer, Moore, Terry Sanders and Dave Miller.
In Street Stocks, Godard set fast time with a lap of 18.188 seconds. Heat races were won by Kevin Scoffield and Sam Potter, with JJ Irvine starting the 25-lap main on pole. Godard took the win over Potter, Irvine, Michael Hollingsworth and Jody Tanner.
In the IMCA Sport Compacts, Donaldson set fast time with a lap of 19.340 seconds, with Andrew Wright winning the heat race. Wright started the 20-lap main upfront. Donaldson won over Rex Eckley, Wright, Bodie Shinkle and Trevor Burton.
In Sportsman, Schellhorn took his second fast time of the night with a lap of 17.784 seconds. Heat races were won by Tanner and Garrett Craig. James Slover started the 17-lap main up front, but in the end it was Aaron Bloom taking the win over Ray Bloom, Craig, Trevor Mackey and Slover.
Racing returns to Willamette Speedway next Saturday, September 11 with Super Late Models, IMCA Modifieds, Super Sports, Street Stocks, IMCA Stock Cars and IMCA Sport Compacts. Tickets can be purchased in advance via the track's website at trophymotorsports.com.
---
Submitted By: Ben Deatherage
Back to News