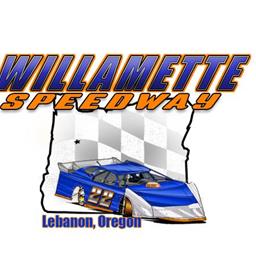 7/19/2022
Willamette Speedway
---
Tanner Wins Sixth Feature In a Row, Bounty Placed.
Joey Tanner won his sixth consecutive feature at Willamette Speedway Saturday night. Starting 17th in an 18 car field. The Portland, Oregon pilot made his way through the field and to the front in seven laps and never looked backed.
It wasn't easy for the #111 racing through the field as he had a couple of uneasy moments in his drive to the front that included a bit of contact with the backstretch wall that easily could have ended his night. After shaking his car down under caution to confirm it was alright Tanner really turned it on once the green flagged dropped and racing resumed.
Making some real risky moves to get to the front and giving the fans a thrill in doing so, it didn't stop until the checkered flag flew over the largest late model field on the West Coast. Tanner gave the crowd a show until the end making bold moves that saw him three wide through lapped traffic and using multiple lines over the course of the forty lap feature. Some Tanner fans stated they "nervous and excited" as he raced his way to victory in dominating fashion lapping up the fifth position. Only four cars remained on the lead lap at the end.
After the feature had come to a slow track owner Cory Penfold stated publicly over the track's public address system that he was officially placing a bounty on Tanner and the #111 car. He initially started the bounty as a $200 dollar bonus added to regular purse but race fans were quick to jump in on the action with donations bringing the initial bounty up to $450 to the first driver to better Tanner. That bounty will continue to grow each week that Tanner wins until someone is able beat Tanner.
News spreads quick with today's technology within minutes Penfold received a call from "a California team" asking if the bounty was true. When asked who that team was Penfold stated "I'll let you know once it's confirmed they're committed to coming".
Late Models get back to action at Willamette Speedway on July 30th on a night that includes a $5000 to win IMCA Stock Car feature.
Qualifying starts at 4:30 with racing at 6:00. You can purchase your tickets in advance online to avoid the long line at the gate. Those tickets can be purchased at www.willamettespeedway.com
---
Article Credit: Cory Penfold
Back to News