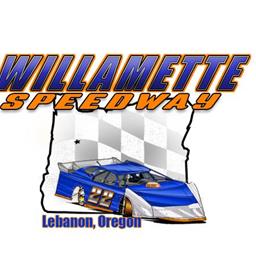 10/27/2015
Willamette Speedway
---
Drivers To Be Awarded At Willamette Banquet Announced
Drivers To Be Awarded At Willamette Banquet Announced
By Ben Deatherage
Lebanon, Oregon- As the racing portion of 2015 has been completed at Willamette Speedway all there is left to do is pass out the awards for the drivers that managed to participate in enough events over the course of the season. The banquet for the historic 1/3-mile clay oval is on Saturday November 14th at the Best Western Premier Boulder Falls Inn in downtown Lebanon. Below this story is a list of drivers that will receive awards at the ceremony.
Doors will open at 6:00 PM followed by dinner at 7:00. The awards ceremony is scheduled to get started around 8:00. We can't wait to see everyone there. This facility is located is at 605 Mullins Drive in Lebanon.
Attire is business casual/semi-formal and you must have your tickets ordered by November 7th. To purchase them contact Michelle Preston ((360)-903-5785) or michellep_willamette@comcast.net) or Nikki Gamell ((503)-476-7206 or nswatzell@gmail.com). A link to the order form can be found athttp://www.trophymotorsports.com/downloads/get.aspx?i=292959.
Driver To Be Awarded:
Super Dirt Late Models-
Rob Mayea
Brian Cronk
Darren Coffell
Bricen James
Justin Duty
Thomas Hunziker
Doug Davenport
Randy Boyd
John Duty
Rob Campos
IMCA Modifieds-
Collen Winebarger
Dustin Cady
Matthew Drager
John Campos
Brett James
Sam Potter
Rod McCombs
Super Sports-
Brian Smith
Gil Pickett
Randy Barley
Chris Mott
Steve Moore
Jerry Casey
James Slover
Clyde Rood
Sportsman-
Sandy Sanders
Brian Winkler
Glen Hackney
Jeff Rash
James Slover
Casey Rhoades
Tom Yeack
Clyde Rood
Street Stocks-
Bill Allison
Kyle Yeack
Doug Scott
Ryan Emry
Austin Botcher
---
Submitted By: Ben Deatherage
Back to News