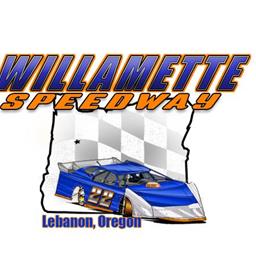 9/6/2016
Willamette Speedway
---
Craftsman World Of Outlaw Sprints Set To Invade Willamette Speedway On Wednesday September 7th
Craftsman World Of Outlaw Sprints Set To Invade Willamette Speedway On Wednesday September 7th
By Ben Deatherage
(Photo Courtesy of Doc's Photos)
Lebanon, Oregon- For one night only fans in Oregon and the surrounding areas will get to see the best Sprint Car drivers in the world race at Willamette Speedway. Wednesday, September 7th the Craftsman World Of Outlaw Sprint Series will be on hand for their fourth career occasion at the historic 1/3-mile clay oval. Traditionally a stock car venue, Willamette has had two previous Sprint Car races this season one of which was a winged 360 Sprint event and the other a non-winged 360 Sprint race.
The first time the Craftsman World Of Outlaw Sprint Series made it to the Lebanon facility was in 2012. They would return for two consecutive seasons before taking a hiatus in 2015. In three races there have been three different winners.
Australian Kerry Madsen won the 2012 edition, Tim Kaeding managed to capture the victory in 2013, and in 2014 Shane Stewart was victorious. Although he has never won at Willamette Donny Schatz has finished on the podium all three times. He was second in 2012 and 2013 while in 2014 was his worst finish, a third.
Joey Saldana also has a rhythm of consistency with two five place finishes in 2012 and 2014. His worst results was a twenty-first place result in 2013. David Gravel is currently on a hot streak sweeping the weekend Skagit Speedway in Alger, Washington. Gravel has only been to Willamette once, in 2014, and finished in sixth.
Tickets are Adults $40.00, Juniors (13-17)/Seniors/Military $35.00, and Youths (12& Under) $15.00. ALL RESERVED SEATS ARE $50.00. To order your tickets simply contact Willamette Speedway, both Nikki Gamell, and Michelle Preston will be handling sales. Nikki Gamell 503-476-7206 or Michelle Preston at 360-903-5785. Front Gates open at 3:30 PM and Racing kicks off around 6:30. For more information, log on to www.trophymotorsports.com.
September 2nd, 2014
A Feature: 1. 2-Shane Stewart; 2. 9-Daryn Pittman; 3. 15-Donny Schatz; 4. 71M-Joey Saldana; 5. 51-Paul McMahan; 6. 83-David Gravel; 7. 49-Brad Sweet; 8. 7S-Jason Sides; 9. 18-Jason Solwold; 10. 1S-Logan Schuchart; 11. 3C-Jonathan Allard; 12. 29-Kerry Madsen; 13. 4-Cody Darrah; 14. 11-Steve Kinser; 15. 33V-Henry Van Dam; 16. 44W-Austen Wheatley; 17. 66-Barry Martinez; 18. 88N-D.J. Netto; 19. 1A-Jacob Allen; 20. 7-Kevin Smith; 21. 22-Mike Romig; 22. 2J-Jonathan Jorgenson; 23. 11K-Kraig Kinser; 24. 55-Trey Starks
September 3rd, 2013
A Feature: 1. 83-Tim Kaeding; 2. 15-Donny Schatz; 3. 1-Sammy Swindell; 4. 49-Brad Sweet; 5. 9-Daryn Pittman; 6. 29-Kerry Madsen; 7. 57-Kyle Larson; 8. 11-Steve Kinser; 9. 63-Chad Kemenah; 10. 11K-Kraig Kinser; 11. 7S-Jason Sides; 12. 7-Craig Dollansky; 13. 6-Bill Rose; 14. 11C-Roger Crockett; 15. 51-Paul McMahan; 16. 9W-Brandon Wimmer; 17. 4-Cody Darrah; 18. 2J-Jonathan Jorgenson; 19. 55-Trey Starks; 20. 24-Rico Abreu; 21. 71M-Joey Saldana; 22. O-Jonathan Allard; 23. 77-Shane Stewart; 24. 33V-Henry Van Dam
September 3rd, 2012
A Feature: 1. 29-Kerry Madsen; 2. 15-Donny Schatz; 3. O-Jonathan Allard; 4. 83-Tim Kaeding; 5. 9-Joey Saldana; 6. 63-Chad Kemenah; 7. 7-Craig Dollansky; 8. 4-Cody Darrah; 9. 18H-Jac Haudenschild; 10. 11-Steve Kinser; 11. 5W-Lucas Wolfe; 12. 55-Trey Starks; 13. 11C-Roger Crockett; 14. 11K-Kraig Kinser; 15. 33V-Henry Van Dam; 16. 6-Bill Rose; 17. 21S-Zack Spaulding; 18. 88-Jesse Whitney; 19. 7X-Kevin Smith; 20. 26F-Shane Forte; 21. 98M-Mitch Olson; 22. 1-Sammy Swindell; 23. 18-Travis Jacobson; 24. 28-Brenton Nugent
---
Submitted By: Ben Deatherage
Back to News