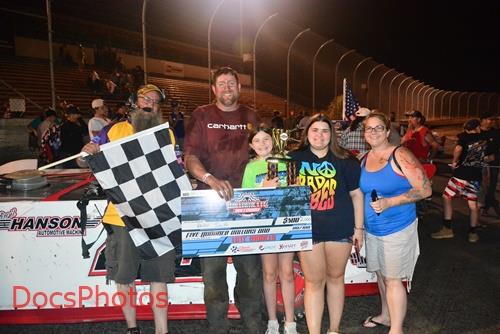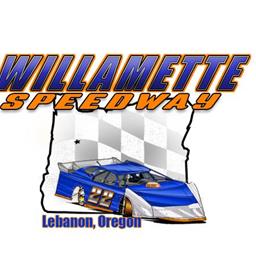 7/4/2021
Willamette Speedway
---
Brian Smith Wins Willamette Late Model 100 Lapper; Sanders, Slover, Potter, And Martin Also Obtain July 3rd Wins
Brian Smith Wins Willamette Late Model 100 Lapper; Sanders, Slover, Potter, And Martin Also Obtain July 3rd Wins
(Photo Courtesy of Doc's Photos)
Lebanon, Oregon- Willamette Speedway returned to racing on Saturday, July 3rd, after a week off. The famed 1/3-mile dirt oval would host a 100 lap Late Model feature as the main card on the night. Additionally, divisions in action included the Super Sports, Sportsman, Street Stocks, and IMCA Sport Compacts.
At the end of the long Late Model feature, Lebanon's Brian Smith would park the Jerry and Mandee Casey-owned mount in victory lane to win his first race of 2021 at Willamette. B.J. Donofrio, of Salem, was the runner-up, with third being credited to Gresham racer Jason Johnson. The rest of the top five included Jeff Rash, also from Lebanon, and Battle Ground, Washington pilot Sonny Modaff in fourth and fifth.
Terry Sanders, out of Stayton, took care of business in the Super Sports. It was Terry's first win of the campaign. From Scio and operating the Donofrio family-owned car, Steve Moore came across the line second, followed by Salem veteran Greg Heinrich in third. Lebanon racer Chad Slover ended his evening in the fourth position while scored in fifth was Eugene driver Tony Goddard.
Chad Slover, pulling double duty, became the first repeat winner in any division at Willamette this year by doubling up his winning account in the Sportsman class. Coburg's Kent Emry was a respectable second, and Tahlan Rogers of Albany hit the finish line third. Wes Roles put in a fourth-place effort, and fifth went to Steve Peifer from Corvallis.
In the Street Stock main event, Sam Potter, of Monmouth, was the one to conquer the competition. It is Sam's first triumph of 2021. Longtime racers Rod McCombs, from Albany, and Portland's Jody Tanner were second and third. Lebanon native J.J. Irvine finished fourth over fifth, finishing Chris Sine, hailing out of Bend.
Lastly, the IMCA Sport Compacts were the lone Speedway Motors IMCA Weekly Racing division on the card. Dexter's Brad Martin was the one to hit pay dirt for the first time at Willamette and marks his second victory in KMJ Performance Oregon State. Jack Vicari, from Eugene, was scored second with Cottage Grove chauffeur Kerry Cooper, behind him, in third. T.J. Jackson grabbed fourth, and Salem racer Andrew Wright was fifth.
Willamette Speedway returns to racing on Saturday, July 10th, for their third race of the season. Classes on the bill include Late Models, IMCA Modifieds, Super Sports, Sportsman, Street Stocks, and IMCA Sport Compacts. For more information, stay tuned to both the track website and Facebook page.
---
Submitted By: Ben Deatherage
Article Media
Back to News